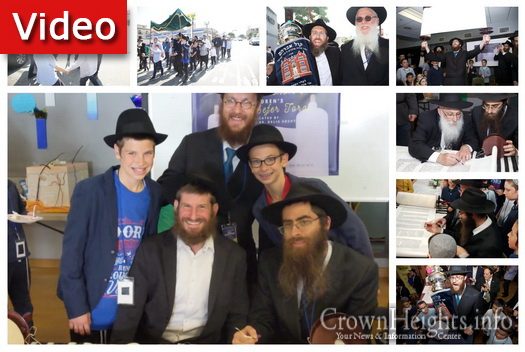 Hundreds of men, women and children gathered together to welcome in a very special Sefer Torah, the first of its kind in the rapidly growing community of Pico-Robertson. Rabbi Eli Hecht, Shliach of the Rebbe In Lomita California and family donated the brand new Sefer Torah to be used exclusively for Kol Avrohom, the exciting children's program and youth Minyan, run at Bais Bezalel Chabad by Rabbi Zalmy Hecht.
The Torah was dedicated in loving memory of Rabbi and Rebbetzin Avrohom and Liba Hecht of whom the Kol Avrohom Youth program is dedicated. It was also in memory of Habocher Hatomim, R' Yehoshua Hecht, dear son and brother of the Hecht family who passed away earlier this year.
Rabbi Dovid Nissen Bressman, a proud parent of Kol Avrohom kids and a renowned Sofer, oversaw the completion and filling in of the letters. The Z'chus of filling in the last letters was made available to the members of the community and mispalelim of Bais Bezalel, Pico's largest Chabad Shul and they came in droves to participate and pay tribute to this worthy cause.
Rabbonim, Shluchim, askonim, bale Batim and of course the children- all joined together at the Siyum which began at Bais Chaya Mushka and paraded down Pico Boulevard towards Bais Bezalel, home of Kol Avrohom, for lively Hakofos and a fully catered meal.
Children received creative and original badges bearing the words I am a proud member of "Kol Avrohom Kids", with material of the new Torah's mantel placed in it.
The last letters were carefully filled in by Rabbi Moshe Levin, Rov of Bais Bezalel and Rabbi Eli Hecht who noted that the last two letters, Alef and Lamed are the initials of his dear parents, R' Avrohom and Liba, in whose memory this Torah is written.