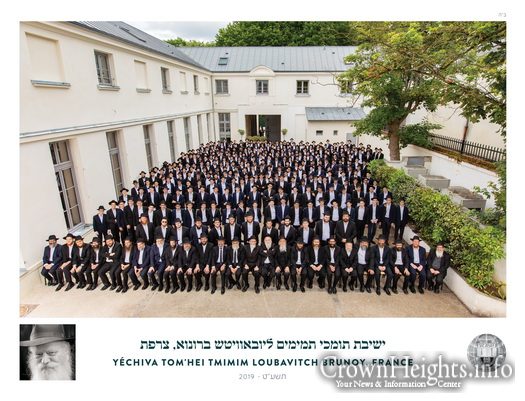 The 360 bochurim learning in Yeshivas Tomhei Temimim Brunoy posed for a group photo as the Yeshiva prepares to farewell its graduating class.
Tomchei Temimim Brunoy, is one of the largest Lubavitcher Yeshiva in the world, with hundreds of bochurim from twenty countries as well as dozens of staff members.
The yeshiva will hold its annual dinner this week, with its Hanhola, Rabbi Yitzhak Neminov, Rabbi Mendel Gourevitch and Rosh Yeshiva Rabbi Yechiel Kalmonson.
An invitation letter was sent to friends and graduates of the yeshiva to participate in the dinner, which included a special performance by singer Avraham Fried.
מכתב אנ״ש גאלא תשעט ר יצחק