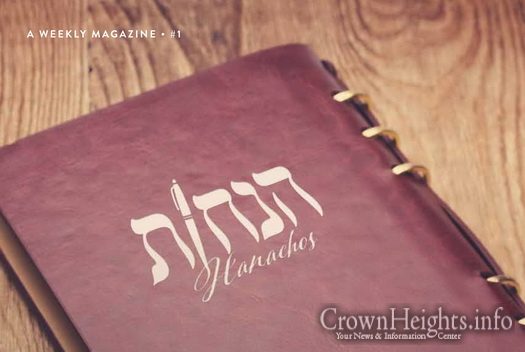 "Hanachos," a new weekly Magazine released by the Vaad Talmidei Hatemimim, brings the past to the present in a professional way that connects with Yeshiva students.
The magazine was created collaboration with the Hanachos program presently taking place in mesivtas. The magazine was designed to enrich this program.
Each week the magazine will feature the column "Hanachos: An Insider's Perspective," personally interviewing one of the manichim. This week, the first edition interviews Rabbi Simon Jacobson, with the planned
twenty minute interview lasting well over an
hour and half.
The top three hanachos from each week will be prominently featured as well. This week Tmimim Menachem Mendel Gurarie, Yossi Kogan and Meir
Twersky are featured.
As the day of Gimmel Tammuz approuches — the inspiration for the launch of "Hanachos" — the magazine will feature the weekly column "Recollections from Hanhalah." This week, the magazine interviews Rabbi Zalman Kaplan, who made the time to be interviewed for this column despite his very busy schedule this week.
Each week, thanks to the Derher, will present kisvei yad kodesh on the topics shown that week on the Hanachos videos as well.
This magazine also prominently features images from JEM's Living Archive.
Hanochos Magazine 1 Final LR-1-8_compressed-1-4

Hanochos Magazine 1 Final LR-1-8_compressed-5-8

Hanochos Magazine 1 Final LR-9-16