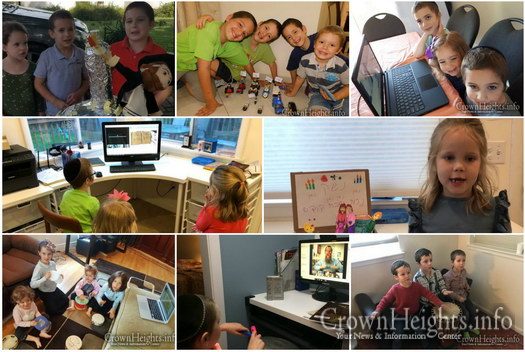 While children in Anash communities geared up for their local Lag B'omer rallies, young Shluchim living in remote towns around the world attended their very own Online Lag B'omer Parade, organized by Chinuch Yaldei Hashluchim, a division of The Shluchim Office.
From their living rooms across the globe, over 800 young Shluchim participated in the parade complete with floats, drums, and entertainment. The 12 Pesukim were lead by Shluchim from the Dominican Republic, Aruba, Ghana, Wales, Russia, France and more. Fourth grade boys from the Nigri International Shluchim Online School dressed Up as clowns and Rabbi Chayim Boruch Alevsky led an exciting and interactive drum circle.
With Rabbi Shea Hecht leading the parade, the energy was felt across the globe and all of the young Shluchim got a small glimpse into the parades by the Rebbe. As Rabbi Hecht powerfully ended off with a lechaim, "Let's wish each other the greatest Bracha – that we merit to have the greatest parade with Rebbe in Yerushalayim ir Hakodesh!"
A parade was also held for the Hebrew speaking young Shluchim. This was hosted by the Nigri international Shluchim Online School Hebrew Division. During this parade children were able to showcase the floats they had built and were then entered into a competition.
Special thanks to Tzeite Raichik for arranging and organizing this year's parade.
Chinuch Yaldei Hashluchim, a project of the Shluchim Office, in memory of Rabbi Mendel and Sara Shemtov A"H engages young Shluchim around the world through specialized programming and initiatives.