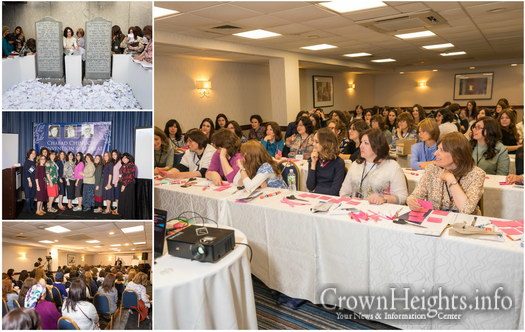 Hundreds of Mechanchos are planning their summer around the upcoming Kinus Mechanchos Chabad and Retreat, taking place on Yud Beis – Yud Gimmel Tammuz (July 15-16) at the Crowne Plaza, Stamford. After a great response to subsidized admission last year, philanthropist Yosef Yitzchak Popack will once again be sponsoring generous scholarships so that many educators will be able to attend.
For Mechanchos, the annual Chinuch convention acts as a much-needed infusion of Chassidishe inspiration and empowerment for the Shlichus of Chinuch, also providing practical tools and strategies to take to the classroom. "I have been to each Kinus Mechanchos and each one has been eye opening in many ways," says Devorah Leah Shulman of Kingston, PA. "All of the innovations I have implemented in my classroom over the past few years, I can link back to the information and insight I was given at one of the Kinusim."
Mr. Popack is a longtime supporter of Chabad Chinuch and Mechanchim. In recognition of the value this yearly boost provides to educators, he has created this scholarship to ensure that finances do not prevent Mechanchos from participating. Until Lag B'omer, 125 Mechanchos can sign up using the code "yypgift50" and receive $50 off of the already reduced Early Bird price for the full convention, at
This year's Kinus focuses on the theme of "Noter Karmo: Tending the Garden" and will hone in on the unique role that Chabad Mechanchos play in our community. The program is being developed by a committee of twenty dedicated educators from around North America, chaired by Mrs. Batsheva Deren of Yeshiva Schools of Pittsburgh. Session presenters include Dr. Sara Rosenfeld, Mrs. Malka Touger, Mrs. Chana Ginsburg, Mrs. Rivkah Schack, Mrs. Nechamy Segal, and many more. A special mental health track will include presentations by Dr. Akiva Perlman of Amudim and Mrs. Dena Gorkin, principal of Bnos Chomesh High School. Tracks for School Leadership and Early Childhood will also be offered.
Devorie Blasberg participated in last year's Kinus and has recently joined the teaching staff of a Chabad school in Las Vegas, NV. "Coming in as a first-time teacher, I observed all the sessions and use them as a foundation for my classes," she shares. "Whether for how to understand a child, how to teach in different ways, or the very much needed encouragement and inspiration to get me through the ups and downs, I am ever so grateful."