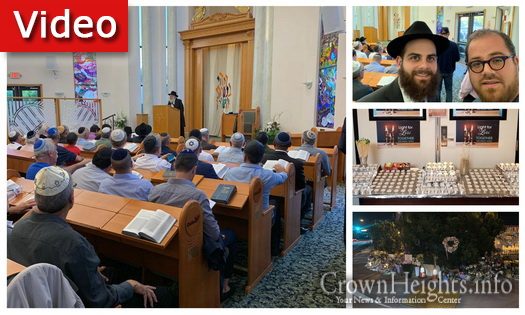 by Shlomie Rabin
What is Yom Kippur, Simchas Torah and Shabbos Nachamu all in one? The first Shabbos after the terror at Chabad of Poway.
I offered my friend Rabbi Mendy Goldstein (Son of Rabbi Yisroel Goldstein and Shliach at Chabad of Poway) to come for Shabbos to lead the davening and sing at the meals. He accepted and I began crowdfunding my flight. My brother Fitz who also offered to come followed suit. Money came in, flight was booked and we were on our way to California.
Erev Shabbos
We drove down from LA to San Diego with my brother who lives in Redondo Beach, CA and he came to join us in song, and to support Chabad on this special shabbos.
We were hosted by a community member named Pinchas, so we got ready and went to Shul for Friday night services. Outside the Shul both across the street and on the same side of the Chabad center there were tens of people holding signs of comfort and support, as well as flowers all over the sidewalk from those who sent their love to the community. There was a large Mitzvah banner from Houston with stickers of all the people who took on a Mitzvah. The press and TV stations were set up outside as well. I spoke to many of the well wishers and even spoke to faith leaders both muslim and christian who expressed their solidarity with Chabad.
There was a formidable police presence at the Shul entrance. I entered and saw the bullet holes on the door going from the main lobby into the social hall. I saw hundreds of Shabbat candles setup for Lori, may G-D avenge her blood. People were gathered from a variety of backgrounds all wanting to be a part of what would become a shabbos of a lifetime.
Friday Night
Rabbi Yisroel Goldstein arrived and the energy started building in the sanctuary. He ascended to the pulpit to an immediate standing ovation that lasted for quite some time. He spoke, and acknowledged the family of Lori Kaye, the heroes who went into the line of fire and invited Rabbi Simon Jacobson to speak before the start of Friday night services. Rabbi Jacobson pointed out that Jewish blood was spilled on this site, and that makes this building sacred ground, even more than before. That hit a nerve for many of the people who were not there last week during the shooting.
My brother and I made up to split the Davening so I began leading and the room was beginning to become combustible with every passing moment. The chaos of the last 7 days was beginning to drift away and in its place a feeling of peace and healing was beginning to peek through. The healing has begun, and with it something was being birthed. By the time we got to the end of L'cho Dodi, it was as if a match was dropped on pre poured gasoline as the shul exploded and erupted into dancing. Dancing of hope and dancing of joy. Dancing of letting go and lifting up and ascending to a place that is suspended beyond this earth. The pace picks up and the women begin to move. The room is alive and energized like it is Simchas Torah and purim together. We slow down to sing Kal Haolam Kulo and take note of the message of hope that the song conveys, only to then speed up again and again until finally the room begins to reluctantly come back down. With a feeling of relief and triumph like at the completion of Yom Kippur, we then went back to Davening and my brother took over.
Friday Night Kiddush
Picture this, you go to a retreat and there is a large outdoor area that is enclosed all around. The sky is filled with stars, the night is quiet and the air is just perfect. Hundreds of Shul guests pour into the courtyard and large circles form, circles where people stood arm over each others shoulders and held each other as we swayed back and forth to the tune of Shalom Aleichem. Where the peaceful cloud of Shabbos comfort was being ushered in with both arms. I stood in the center of the circle with Rabbi Goldstein and said to him, "what do you think G-D sees now"? He couldn't even express it in words, but the Nachas of seeing G-d's children united and connected with love and acceptance was simply moving. How could you not be moved? This was Shabbos group therapy! Eishes Chayil was dedicated to Lori Kaye and I held Dr Kaye as we sang it to his late wife during this Shabbos of his Shivah. We made Kiddush and Hamotzi under the stars and the crowd schmoozed before it shifted to a sit down meal inside the social hall.
Friday Night Meal
At the meal, Peter (Pesach) Yarrow from the popular sixties music group 'Peter, Paul and Mary' sang and explained an iconic song of his that he felt was appropriate for the event. "I was moved to just come and support in the way that I could" he said in reference to why he flew in from NY. Rabbi Jacobson spoke and closed with a Niggun at which point my brother and I joined him and sang a few more songs.
As I walked home and then as I fell asleep that night, I couldn't help but replay those moments in my head and just has this desire for that to come back tomorrow again.
Shabbos Morning
It was Shabbos Mevorchim and I went to Shul early where I found other Anash who were also visiting gathered as well. At 10:00 am Fitz began the Davening along with "the blind cantor" who is an elderly man that is blind, and has a most amazing voice. We sang a powerful Mimkomoch and proceeded to open the ark. Before doing so, Rabbi Goldstein, began by by acknowledging another person in the Shul whom it was discovered was a 3rd person that ran into the line of fire. He explained that would make a blessing thanking Hashem for the miracle of him being alive which he did "She'oso Li Nes Bamokam Hazeh" "That performed for me a miracle on this site". The timing was the same as one week before when the shots rang out. He faced the open ark and offered a personal prayer, a prayer that was heartfelt expression of his heart and addressed to GD almighty directly. It was a special moment which reminded me of the Kohen Gadol's personal prayer on Yom Kippur.
Rabbi Goldstein dedicated a moment of silence to Lori and asked everyone to make it a productive moment by taking on a resolution for Mitzvos during that moment. I took upon myself to share my gift of music with a community at least once a month. Dr Kaye held the Torah and recited Shma Yisroel to a resounding Shma by the congregation. It reminded me of the Shma we say at the end of Neilah on Yom Kippur, when you really feel like your ready to give your life to Hashem. The Torah was carried to the Bimah and the heroes, those injured and those who made a difference throughout the week were honored with an Aliyah. Rabbi Goldstein received Maftir. He gave a special Mi Shebeirach to those who were hurt by the attack.
Following the Maftir I lead the blessing of the new month and Rabbi Goldstein highlighted the healing attributes of the month of Iyar (acronym for "I am GD your healer") as the community begins to recover from the traumatic shooting.
The Torah was ushered back to the open ark and accompanied by the song of Ani Maamin. Following Ani Maamin, the Etz Chayim was sung and before the doors of the ark were closed, I faced the crowd and said "I want to offer a tribute to the community and Rabbi Goldstein. A song in English that expresses our heartfelt desire for the Moshiach". My brother Lenny joined us on the stage at the ark and we sang "The Little Bird Is Calling". The little bird is wounded… the words seemed so poignant and myself and the shul were in tears. As we started the third stanza we sang "The Little Bird is Yisroel"… as we turned to Rabbi Yisroel Goldstein and showered him with our love. And ended with the Ayayay at the end. That moment penetrated the soul of everyone present, and surely pierced the heavens. The ark was closed and the room was quiet as everyone processed and absorbed what just transpired.
Rabbi Jacobson spoke and we concluded with Mussaf and a large Kiddush Farbrengen that went into late afternoon. Fitz and I then went to Rabbi Goldstein's home where we sang for him, his wife Devorie, as well as for the ladies that came to support her. "This is my medicine" Mrs. Goldstein said, as we sang song after song until Mincha came and we headed back to shul.
Motzai Shabbos
Shabbos ended and Dr Howard Kaye arrived to join the minyan and resume his Shivah. As Howard sat down on the steps to be comforted with the traditional Hamakom Yenachem, Rabbi Goldstein made an announcement. He shared that as he turned his phone back on after Shabbos he received an email from a family that gave birth to a baby Girl and named her after Lori! A family that was moved by the events of Poway to name their daughter after the victim. Dr Howard Kaye was visibly touched and everyone present was moved by the beautiful tribute to Lori. The community then proceeded to comfort Dr Kaye with the traditional "Hamakom".
I am in the airport now as I get ready to board the red eye flight back to NY my eyes well up with tears as I think of the unthinkable violation of the Rebbe's home and G-D's sanctuary that took place. How we are so vulnerable and fragile in this physical and false world. And I simultaneously take comfort and strength from the unbreakable spirit that every Jew possess in potential and that Rabbi Goldstein modeled for us in reality. May we use this inspiration to tap into the limitless power we have within and do whatever we can to make this world ready for the coming of Moshiach, may it be today!