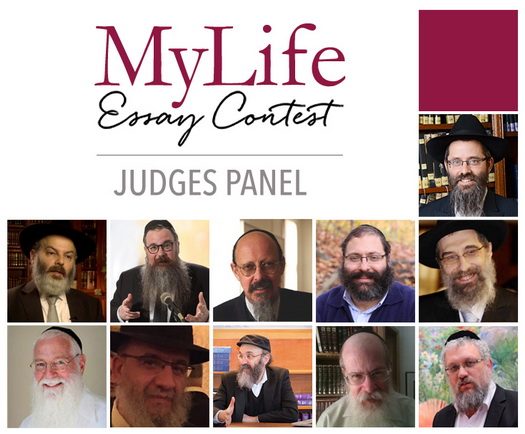 In what has become a highly anticipated annual event, people worldwide are awaiting the announcement of the fifth annual MyLife: Chassidus Applied Essay Contest winners.
The winners will be announced during the weekly live broadcast of MyLife: Chassidus Applied this Sunday night, April 14, 8PM.
Multiple rounds of judging have narrowed the pool of contestants from hundreds, down to the top 20.
"Witnessing the sheer diversity and quality of these essays has been absolutely fascinating," says Contest Director Rabbi Sruli Steiner. "From deeply moving personal experiences, to highly innovative methodologies, each essay has a life of its own. It's intriguing to see the many unique styles and approaches used — and the wide spectrum of topics covered — toward applying Chassidus to life."
The first place winner of the contest will receive $10,000, the second $3,600, and the third place winner $1,000.The student prize is $500.
This year, we will also be announcing the in-school winners of all participating Mosdos who have brought this contest into their programs. Many of these school will be awarding their own winners independently. Dassi Mochkin, who launched the contest in Beis Chana seminary in Tzfas, said, "I am so amazed! I got approximately 30 essays sent to me! It swept the whole seminary, many teachers were involved, and girls helped each other do research. Many girls who toiled with the idea even if they didn't write one, still gained from the involvement in thinking practically and researching… thank you so much for putting in the extra effort to allow this to happen. It really added a new koch in learning here."
"We are all excited about the outcome of this contest," says Rabbi Simon Jacobson, Dean of The Meaningful Life Center, "but its greatest accomplishment is the fact that hundreds of people from all walks of life have been motivated to bring Chassidus alive in a very personal way. This contest was launched in order to galvanize a new generation of leaders and thinkers to apply the works of our Rebbeim to the challenges we face today. Reading through these essays, originating from young students to seasoned educators, and seeing the public's enthusiasm palpably grow from year to year, it is clear that we are achieving our goal."
A panel comprised of some of this generation's most distinguished Torah and Chassidus scholars are tasked with judging the essays. These experts blindly evaluate and select the winning essays based on an objective list of criteria.
"I look forward to reading the student essays," said contest judge Osher Farkash. "It is one of the most rewarding parts of serving as a judge of this contest to hear the voices of the next generation."
The MyLife: Chassidus Applied Essay Contest 2019 judges are:
English Division:
Rabbi Dr. Yaakov Brawer – Montreal
Rabbi Dr. Shimon Cowen – Melbourne
Rabbi Shais Taub – Five Towns
Rabbi Yosef Y. Jacobson – Monsey
Rabbi Dr. Shmuel Klatzkin – Dayton
Hebrew Division:
Rabbi Osher Farkash – Buenos Aires
Rabbi Dovid Olidort – New York
Rabbi Asi Speigel – Tzfat
Rabbi Yaakov Biderman – Vienna
Russian Division:
Rabbi Baruch Kleinberg – Moscow
Tune in to the MyLife: Weekly Broadcast, this Sunday night, April 14, at 8:00 p.m. EST to hear the announcement of the contest winners.
The MyLife: Chassidus Applied Essay Contest is made possible by a grant from The Meromim Foundation.