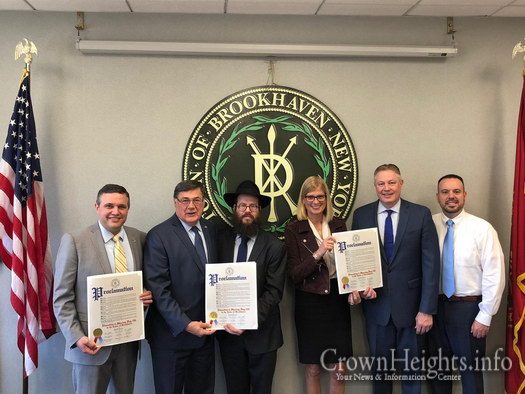 Pictured left to right are Councilman Kevin LaValle; Supervisor Ed Romaine; Rabbi Goldberg; Councilwoman Jane Bonner; Councilman Neil Foley and Councilman Dan Panico.
On April 3rd, Supervisor Ed Romaine and members of the Town Board of Brookhaven, NY, met with Rabbi Mendy Goldberg to recognize Education and Sharing Day in the Town of Brookhaven.
Rabbi Goldberg is the Associate Director of the Lubavitch of the East End in Coram.
Education and Sharing Day was established in 1978 by the United States Congress in honor of the Rebbe, and calls for increased focus on education and recognizes the efforts of The Rebbe for education.
Throughout the years, the Rebbe emphasized the importance of education and good character, and instilled the hope for a brighter future into the lives of countless people in America and across the globe.