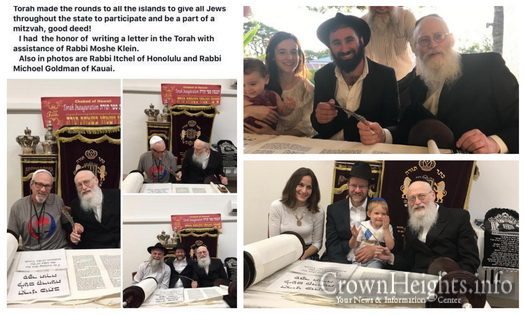 A unity Sefer Torah is having its last letters completed in Hawaii this coming Sunday, as it traveled around the islands with expert Sofer Harav Moishe Klein. The Torah was sponsored in honor of the two Sifrei Torah that were stolen last year from Chabad of Hawaii.
by CrownHeights.info
A newly written Sefer Torah is making its rounds of the Hawaiian islands this week as it has its last letters completed. The Sefer Torah was accompanied by expert Sofer Harav Moishe Klein of Hasofer in Crown Heights, with the completion scheduled for Sunday in Honolulu.
The unity Torah came to being after two Torahs were stolen from a Chabad Shul in the Ala Moana Hotel in Hawaii. One of the Torahs dated back to the 1850's in Lithuania, where it survived the war and the Holocaust.
Prior to it's completion, the Torah visited the city of Kauai with Shliach Michael Goldman, and the islands of Maui.