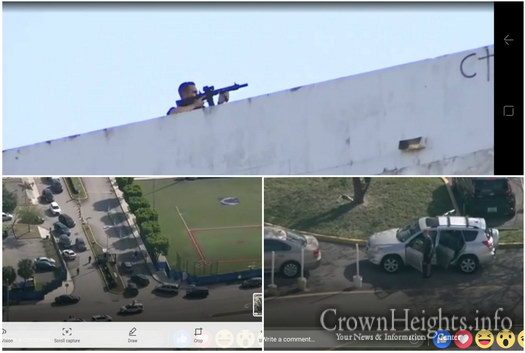 The Lubavitch educational center in Miami Florida was locked down by the schools security team when an abandoned building next door became the center of a massive police manhunt. The Police were searching for a suspected killer of two, including one child.
by CrownHeights.info
The Miami Dade Police Department descended on an abandoned building next door to the Lubavitch Educational Center in Miami at approximately 4:15pm Monday afternoon. The police action was due to a manhunt for a man accused of killing his wife and one of his daughters, as well as injuring a second.
As a precaution, the schools security initiated a school lock down, gaining extra manpower from CSO Security Volunteers and a local Incident Management Team as they secured school the building.
After the area was deemed secure, an evacuation of the school building followed, and the police began searching the abandoned building.
The police swept the building with SWAT and Police Dogs, coming up empty handed. The all clear soon followed, and with a sigh of relief, everyone was allowed back into the building.
The school surveillance footage was looked over by the police, and used to confirm the safety for the students of the school.