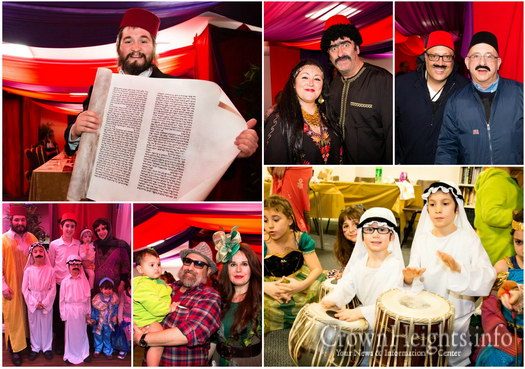 In the heart of Essex, Purim at Chabad Buckhurst Hill exceeded everyone's wildest expectations this year.
Purim began on Wednesday night, Rabbi Odom & Henny Brandman of Chabad Buckhurst Hill had advertised a Megilah Reading, Free Falafel and Fun for all the family and were expecting between 50-75 people. When 140 people showed up and the Shul was bursting at its seams with families, young children and a wide cross section of people from the around the community, it is difficult to put into words the amazing atmosphere in the room.
Miraculously there was plenty of food to go around, the falafel were being fried fresh on the night, so they simply kept going making more and more, pita breads had been ordered for Thursday as well, so they used it all and ordered more for the next day. A fantastic evening was enjoyed by all. Really shows the amazing strength of the community and how Chabad Buckhurst Hill is bringing the people in.
Thursday night saw a Moroccan themed Purim Dinner in Buckhurst Hill. The day before Purim, they had to close the bookings at 134 people, as that was really the maximum capacity. Children were going to seated, with their own program upstairs, run by Mrs Henny Brandman with the assistance of the two Buckhurst Hill Youth Directors, Leah Sacks and Sheina Edleman. The main Shul hall had been totally transformed into a Moroccan tent and the décor was truly breath taking. Food, music, entertainment and decorations all fit the theme and a drumming circle and henna kept everyone having a great time.
photos by Andrea Solomon