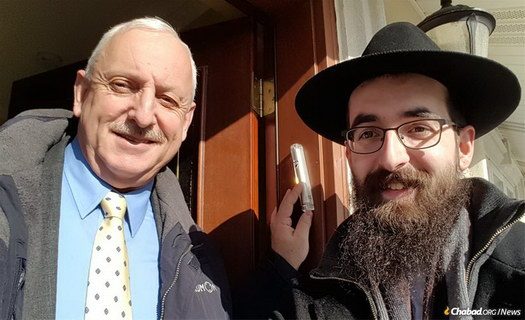 by Karen Schwartz – chabad.org
Having mezuzahs on her family's doorposts has changed Anna Shur's outlook on Judaism.
"It gives me a sense of who I am; it's a reminder to be thankful to G‑d," says Shur, who started lighting Shabbat candles regularly and enrolled her 7-year-old son and 6-year-old daughter in Hebrew school after mounting the parchment scrolls, which contain the Shema, the central tenet of Judaism, in plain sight.
The resident of Brooklyn, N.Y., put the mezuzahs up with the help of Rabbi Heshy Ceitlin, who moved to the area about four years ago as a Chabad-Lubavitch emissary with his wife, Rochel Chana Ceitlin, to join her parents, Rabbi Chaim and Rivkah Brikman, co-directors of Chabad by the Ocean. Shur and Rabbi Ceitlin met when she had Jewish questions she wanted answered after her grandmother died. The rabbi came by and introduced himself, and then mentioned a mezuzah project, which he has been running since the end of 2015. They set a date, made sure her children were home to see it and got started.
The mezuzah not only designates a home as Jewish, but is also a symbol of G‑d's watchful care over the home. It gives her a sense of protection over their residence, says Shur, who didn't have mezuzahs on her doors growing up. "I never had the opportunity and wouldn't have known how to go about it," Shur tells Chabad.org, adding that being able to go to the store and buy a mezuzah isn't the same for her as knowing how it's supposed be affixed or the rules around it. "It's great to have Rabbi Heshy and his wife because every time I have a question, I shoot them a text, and they always have answers," she says.
The Ceitlins started a mezuzah campaign at a synagogue appreciation dinner in 2015. They gave out 200 cards for people in attendance to fill out, asking whether or not they had mezuzahs and when they were last checked. Fifty or sixty families signed up right away, and then there were more. The rabbi went family to family, meeting people, checking and adding mezuzahs. Two years later, he had already put up more than 1,000, and his work continues, says Ceitlin. "Word gets around, and people just call me now instead of me reaching out to them," he says. "But in the beginning, it started with these cards they filled out and going family after family, and I would go visit them and take care of their mezuzahs."
The rabbi was there to put up mezuzahs for Igor Fridlin and his wife, Elaine, when the family—the couple, plus a 12-year-old and nine-year-old triplets—moved to a new house in October 2017. He came back just a few months ago to check that they were still kosher as, over time, letters can fade or the parchment can tear. "We're all busy with our daily lives—work, kids, everything else—and this is an incredible convenience, to have someone literally at your arm's reach who can do it, who can offer that to you."
Living in the community has also encouraged Fridlin to have mezuzahs on his doorposts, he says, adding that he grew up in the former Soviet Union, where he was not accustomed to such practices. "If I wouldn't be in Sea Gate, I probably wouldn't have mezuzahs, but the rabbi's teachings, his encouragement … he drew everybody in, teaches us about Judaism," he says. "Every time he tells a story, it's just amazing."