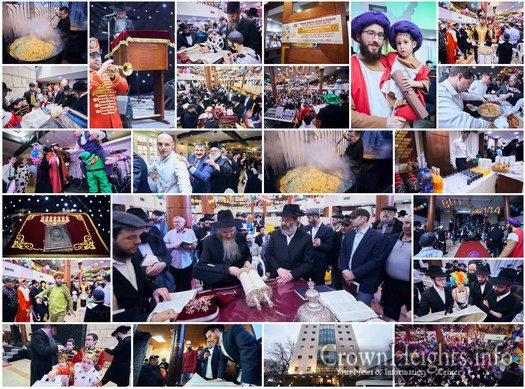 It is with great satisfaction that we look back at Purim of this year, which was happily celebrated by thousands of Jews in Moscow. After months of planning and preparing, with the help of additional volunteers and assistance from the community leaders, as well as coordinating with the many Chabad Houses throughout the city, everything was finally ready for the big day. From the Marina Roscha Jewish Community Center, dozens of "footmen" were dispatched all day, to bring Purim joy and the mitzvos of the holiday to Jews throughout the capital.
The main festivities took place at the central Marina Roscha shul under the auspices of Chief Rabbi of Russia Rabbi Berel Lazar. As has already become the annual custom, megilla readings took place every hour on the hour, enabling families as well as businessmen to come fulfill the mitzvah at their convenience. The dozens of dedicated volunteers who read the megilla, also managed to "catch" many tefillin opportunities in between readings.
All of Moscow's Chabad Houses were rocking with the many youth and teen programs that were organized. The Shaarey Tzedek Chesed Center saw close to a thousand seniors who came to participate in the Purim feast which was sponsored this year by philanthropist David Aminov in honor of his son Natan's bar mitzvah. The feast was followed by a special concert which included megilla reading and mishloach manos.
This year special emphasis was placed on house visits, which were coordinated by phone in advance. Hundreds of Jewish families were visited by shluchim who filled their homes with the light and joy of Purim and helped them fulfill the mitzvos of the day.
Going "mechayil el choyil", these days many tons of matza will also be delivered to Moscow's many Jews, as the preparations for the central Pesach seders will soon reach their peak. Food packages with basic necessities will also be delivered closer to Pesach, as a continuation to the "matanos la'evyonim" that were distributed to hundreds of needy families by the directors of the Keren Chaya Mushka Gmach.
photos by Levi Nazarov