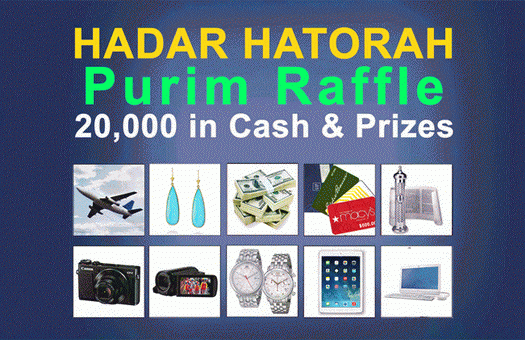 Hadar Hatorah's Purim Raffle is a golden opportunity to support the yeshiva and win one of 16 spectacular prizes, including the Grand Prize of $5000.
All phone & on-line ticket orders will receive one FREE ticket.
Drawing Date: March 20, 2019 at 2pm.
Purchase 20 tickets ($180) or more and receive FREE gifts.  See GIFTS
PRIZES INCLUDE: $5000 GRAND PRIZE, Megillas Esther w/ Silver case, $1500 Travel coupon, $1500 in Gift Certificates, Sterling Silver Shabbos Table set, Diamond Pendant Necklace & MORE!
For more info or to purchase raffle tickets, CLICK HERE or CALL 718-735-0250.