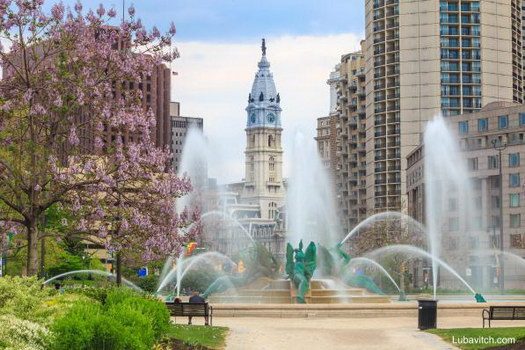 by Mussi Sharfstein – Lubavitch.com
Center City, Philadelphia is home to some of the oldest synagogues in the United States, like the first Ashkenazic congregation established in the Western Hemisphere in 1795. One of these historic synagogues, the 100-year-old Vilna shul, known for its warm, inclusive services, is renovating its vintage sanctuary and moving weekly prayer services to the third floor to allow a new women's mikvah to be built in its place.
It's a first in eighty years. Center City has a Jewish school, a kosher restaurant, and numerous synagogues, but there hasn't been a mikvah in Center City in eighty years. Women wishing to observe the foundational mitzvah must travel to mikvahs in the suburbs making this a hassle, especially for city dwellers without a car.
It's going to be hard for members and friends of the Vilna synagogue to say goodbye to their European-style sanctuary with its stained glass windows, women's balcony, colonial-style chandelier, and "heimish atmosphere," as Rabbi Menachem Schmidt, who spearheads the project, puts it.
According to a 1990 article by the Jewish Exponent, the local Jewish newspaper in Greater Philadelphia, the congregation was formed in 1904 by a group of Lithuanian immigrants and moved into the current building in 1922. It had been the home of Bernard Shapiro who vowed to to convert his house into a synagogue if business did well. The congregation thrived until the 80s when membership started dwindling as congregants passed away. With the shul struggling to remain active, even paying some to join services, the community turned to Rabbi Schmidt.
"Without him, we'd have no synagogue," congregant Sol Kalter told the Jewish Exponent. "He gave the shul new life." Another congregant, Elliot Weinberg, told the paper, "We were glad someone wanted to use the building for a Jewish purpose." Though the minyan itself is still small, congregants from surrounding area synagogues join Vilna's popular weekly farbrengen after services. The tradition will continue, Schmidt promises, even after the mikvah takes over the main floor.
"We didn't want to tear down the existing space." Schmidt thought they might find a way to  place the mikvah, named Mai Shalvah, in Philadelphia's flagship Chabad synagogue, B'nai Abraham, but there was no space. He tried Vilna's basement but the costs of doing that were prohibitive. "The mitzvah of mikvah trumps anything else in Jewish life—including a synagogue—and we're excited for it to finally happen here at Vilna." More than $600,000 in donations and pledges has already been raised with the help of donor Chesky Dershowitz and Mikvah USA.
"It's bittersweet," agrees Rachel Lobman. She met her husband Jeff at a 1999 Simchat Torah celebration in Vilna that spilled into the street. Though they now live in Bala Cynwyd, twenty minutes away, the Lobmans joined the synagogue's last kiddush in December before they closed for renovations. "It's one of the most welcoming, inviting places. It's home." Though the unique design of the synagogue will be changed, "it's not about the structure but about the people in it. And that won't change."
Modest fashion blogger Emunah Wircberg also has fond memories of Vilna where her parents met and she attended services growing up. She and her husband, Zalman, live Philadelphia where they direct the Old City Jewish Arts Center and they continue to be proud members of the shul—Zalman is the official Torah reader. "There's a number of different synagogues and sub-communities in the area, and the mikvah will really bring us all together and unite Center City," she says. "It's a new and positive chapter for Vilna."
The new mikvah will be completed in the fall and will make the practice more accessible. It comes at a time when demographics of the area are changing and more young families are moving in.
"When I went to the mikvah for the first time before my wedding, I was amazed at the impact it had on me," wrote one woman to the mikvah organizers. "I knew immediately that the mikvah would play a role in both my marriage and my personal relationship to G-d and Judaism . . . I vowed to return every month." But, she adds, like too many local women, she hasn't gone consistently because of the difficulties finding the time and means to travel the distance. She also "could not share the experience with other Jewish women in my community." The new mikvah, the woman wrote anonymously, "will be a game-changer."