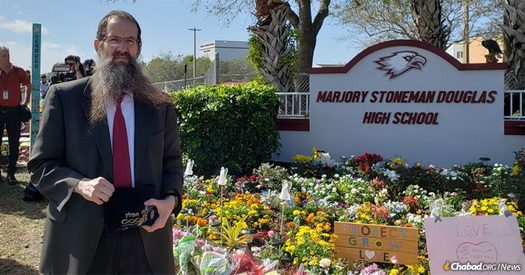 It's a quiet, upper-middle-class suburb just east of the Everglades—a place where people reside for its quality of life: picturesque homes abutting wetlands, superior schools and tree-lined streets. On Sundays, moms and dads cheer their kids on at little league games. Everybody knows everybody in Parkland, Fla.
So when tragedy struck, it hit everyone.
On Feb. 14, 2018, a lone teenage gunman murdered 17 people—14 students and three adults—at Marjory Stoneman Douglas High School. Five of the victims were Jewish, and an area-wide shiva was held for the fallen. "In the days following the shooting, I visited at each of the 17 homes that had lost a loved one," said Rabbi Shuey Biston, outreach director at Chabad of Parkland. "If there was a student I didn't know, I knew his or her friend, or neighbor or soccer coach."
"In times of tragedy, people unite," he said. "That certainly happened here. It brought us even closer together."
In the weeks and months following the mass shooting, Parkland saw an outpouring of positive energy as residents galvanized to help salve the wounds of a shattered community. "Parkland has never seen so many mitzvot done as in this year," said Rabbi Mendy Gutnick, educational director at Chabad of Parkland. "Every project and event we've done has been inundated with people who want to be part of it; people who want to be a force of good for their children, their families and their community."
In neighboring Coral Springs, Andrew Pollack, whose 18-year-old daughter, Meadow, was killed in the shooting, chose to remember her by bringing joy to children. Meadow's Garden and Playground at Chabad of Coral Springs will feature a memorial to all 17 victims of the shooting, joining Princess Meadow's Playground in Betti Stradling Park, where she played as a child. The process of obtaining the necessary permits is well underway, and the project has gained international recognition and support.
Instead of remembering his daughter in sadness at a cemetery, he will do so sitting on a bench, watching children frolic in the playground that bears her name.
Channeling Grief Into Positive Action
Pollock's response to the tragedy has reverberated across the city, as parents, relatives and friends seek to channel their grief into concrete action. "Our teen volunteering has tripled since last year," reports Biston. "They want to give back. They want to be of help, be of value, share of themselves."
Chabad of Parkland doubled down on their teen outreach efforts, with a new emissary couple, Rabbi Ari and Yocheved Karp, moving there to direct the burgeoning CTeen chapter, organizing multiple events and get-togethers each week. "We're dedicated to being there for the community and reaching out to everyone," said Rabbi Yosef Biston, regional director of Chabad in North Broward and South Palm Beach. "Our increased teen outreach reflects the enormous transformation our city has seen—from being victims of unspeakable horrors to being empowered to respond to darkness with light, helping others more than ever before."
"We have been emphasizing to the teens that they matter," says Biston. "Your soul was placed down here by G‑d for a reason, and the world cannot be complete without you."
In addition to volunteering their time, many of the more than 1,000 Jewish students at Stoneman Douglas have taken on new mitzvot. "We've given out 258 mezuzahs and dozens of Shabbat candlesticks," says Gutnick. "And we've gifted 14 pairs of tefillin to students who have pledged to put them on each day."
Following the shooting, world-famous Judaic artist Gary Rosenthal donated unique glass and mixed-metal candlesticks that were gifted to students at the school. After a few months, the supply ran out, with requests continuing to pour in, and Rosenthal suggested a meaningful way to fill that need and to simultaneously pass on the gift of Shabbat candle-lighting to many more individuals in the community.
A Little Light Dispels Much Darkness
On this first anniversary of the shooting, Parkland's Jewish community will gather to remember the 17 students and staff members lost that day. Rosenthal will guide a sold-out crowd of an estimated 500 people in creating two unique candlesticks: one to keep and the second to gift to a Stoneman Douglas student or one at another school who doesn't yet have a candlestick of her own.
The event will also include a memorial and a musical performance, but the focus, says Gutnick, will be on making and spreading light. "We are showing that we are more the power of good than the power of tragedy," he emphasizes. "These candlesticks will be an immortalized monument of light in every home."
Chabad intends that this event to be the first of many bringing light to darkened communities. "We're going to make this opportunity available to women's circles and sisterhoods, creating a candle for themselves and another to share," says Biston. "Wherever communities are affected by tragedy, we'd like to send them candlesticks to light up their cities they way they have lit up Parkland."
On Friday night, Rabbi Avraham Friedman, executive director of Chabad of Coral Springs, will host friends and relatives of Meadow Pollack for a Shabbat dinner, including her brother, Hunter; her boyfriend, Brandon Schoengrund; and numerous cousins and other family members. "The Pollack family, along with other families who lost loved ones in the shooting, have found comfort and closeness in their relation to Chabad," says Friedman. "We have done our utmost to be there for them every step of the way during this difficult time."
Friedman accompanied the Pollacks to the White House this past Chanukah, where he lit the menorah alongside them at the White House Chanukah party, and served as the inspiration for Hunter Pollack's wearing a kippah in the Oval Office during a meeting with President Donald Trump a week after the shooting.
In southwest Coral Springs, the Chabad Jewish Center directed by Rabbi Yankie and Chana Denburg will host a "Shabbos of Healing" for the entire community, featuring acclaimed lecturer and local Jewish educator Sandra Lilienthal.
A year after a tragedy that still hovers over a once-tranquil suburb—a tragedy that shook the community to its core—the Parkland Jewish community has become recognized as resilient, responsive and forward-thinking.
"We want Parkland to be remembered not for the attack," said Biston, "but for how we responded."