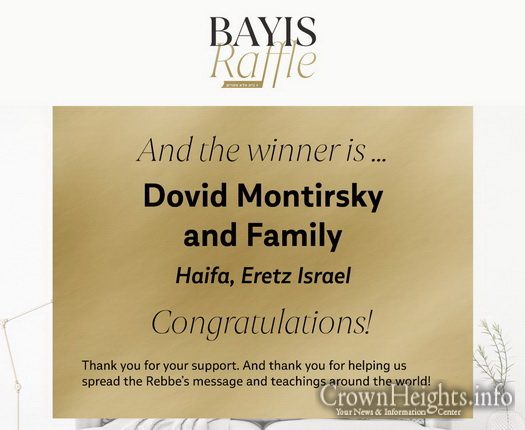 The winners of the "Bayis Raffle" for six months rent or mortgage, to benefit Ohr HaChassidus organization were announced.
Thousands of Anash from around the world donated to spread the Rebbe's teachings to the Torah world. One winner gets to live rent free for the next 6 months…
Every contest has its winners, and the Bayis Raffle is no different. So, who gets to live "on the house" for the next six months?
Congratulations to Dovid Monstirsky and family, from Haifa, Israel, who won six months' rent or mortgage.
Congratulations to Shcherbina Family from Chicago, IL. who won a collection of 100 Chasidus Seforim to enhance the home.
Since its founding only 15 short years ago, Machon Ohr HaChassidus was founded with the goal of making the Rebbe's teachings accessible and available to the broader Jewish community. Today, tens of thousands of people from all segments of the Jewish community discover the Rebbe's teachings through specially prepared publications in print and email that are distributed in over 4,000 shuls in America and Israel, and emailed to over 35,000 subscribers. Reaching more than one million publication worldwide.
Rabbi Avreimi Mann, director of Machon Ohr HaChassidus says "Thank you to EVERY donor for recognizing the need of our time. Let's keep this mission going to share the Rebbe's message in every corner of the Torah-observant world!"