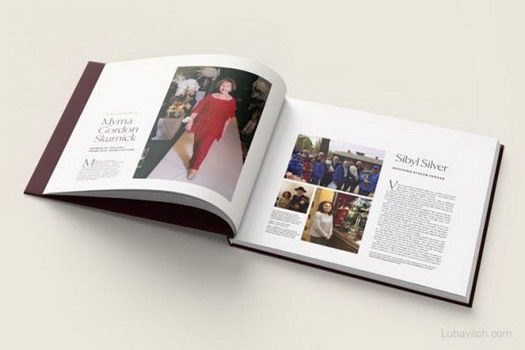 "Women of Valor," New Book Celebrates Women
by Mussi Sharfstein – Lubavitch.com
Tapping into the current public focus on women's empowerment, Boca Beach Chabad in Florida launched a new platform where women's life journeys, stories, and lessons are celebrated, shared, and given over to the next generation. The Women of Valor project includes a website for publishing these stories, events to highlight individual women's achievements, and, the crown jewel, a Women of Valor Tribute coffee-table book for the preservation of these stories.
"Inside every woman is a story waiting to be told," says Rabbi Ruvi New, who directs the Chabad center with his wife Ahuva, "but sometimes it's kept in the family and doesn't get beyond that. We realized the importance of having a medium to share stories of present day women, and legacies of those who passed on, to the next generation beyond just the family circle." Pamela Dubin, a consultant on the project, adds, "We constantly see negative stories in the media, but in our private lives, we hear beautiful stories. Here we have a chance to share it with others."
The project was announced at the first Women of Valor event in January, featuring Judge Rachel Freier, the first Chasidic woman to hold public office in the United States. Freier shared her journey to the bench with the 160 participants—both men and women. New says the feedback from the talk and book launch were overwhelming. "Judge Freier represents a lot of what this is about—succeeding in a secular world as a proud Jewish woman, uncompromising on her standards and values. Not only is she tolerated by the public for her religious values, she's respected for it."
The website will feature 200 stories, half of which will be included in the book. Stories can be submitted to the website for $250. Dedicating a single page in the book costs $900 and comes with the gift of a Women of Valor challah cover. A double page is priced at $1,800. New says there are already ten stories in development.
Three of those stories come from Alexandra Karram, who submitted stories about three generations of matriarchs in her family: her mother, grandmother, and great-grandmother, all of whom she had a close relationship with. "Who we are today is because of the history and traditions that have been passed on—and they shouldn't be lost, they need to go on," she says. The project was spurred partly by the recent loss of her mother, Emilia Miriam Karram, and the need her family and friends in the Chabad community felt to record her unique life story for the next generation to learn from. She is also doing the graphics and layout for the book.
The book's editor, veteran author Lieba Rudolph, a Pittsburgh, Pennsylvania resident who lives part time in Boca Raton and is active at Chabad, shares why she thinks it is important to focus on women: "One of the values of a Jewish woman is that she bestows the Jewish soul on a child. She has an inherent, eternal value and holiness, so to learn the Jewish woman's story is to learn about G-d Himself." With a little bit of prodding, she says, "women who would appear to be ordinary are discovered to be quite are clearly extraordinary.
Dubin notes that everyone has multiple Jewish women in his or her life who should be honored. "We invite anyone who loves a Jewish woman to participate!"