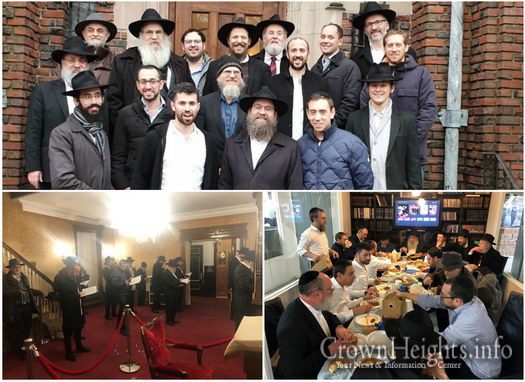 Manchester Community Visits Crown Heights
Zalman Jaffe OB"M, also known as Mr Manchester, must surely be "kvelling". As the initiator of the original charter flight to visit the Rebbe in 1961, seeing his community including his own great grandchildren literally following in his footsteps on the recent trip of Lubavitch Manchester to the Rebbe, must surely be reason for "shepping nachas".
The whirlwind 3 day trip, organised meticulously and led by the community Mashpia Rabbi Moshe Wolberg, left the participants with a profound and life changing experience.
Starting with a visit to the Merkos suites and Kehot headquarters, led by Rabbi Zalmy Loewenthal, and followed by a fascinating tour of the Aguch library – where the group were able to see some of the most amazing artifacts from our rich history on show, the dynamic trip was fully underway!
The participants then had the merit of davening Ma'ariv in the Rebbe's house, a visit made particularly poignant as personal anecdotes of visiting the Rebbetzin were shared.
A delicious meal at one of the local boutique Crown Heights eateries, was kindly sponsored by Mr Harvey Showman.
The following day, was spent in earnest preparation and powerful moments at the Rebbe's holy Ohel. Breakfast in JEM headquarters was accompanied by an extremely informative and fascinating presentation from Rabbi Elkanah Shmotkin, leaving the group with much food for thought.
An opportunity to daven in the Rebbe's room and having a tour of 770 on Friday afternoon were very special moments to be cherished.
A most inspirational Shabbos was spent at the Ohel, with all the accommodation and meals having been thoughtfully prepared by Boruch Cohen to allow for a day filled with Torah and Tefillah, and despite the many hundreds of other guests – the group was still able to have an area dedicated for themselves, where Rabbi Wolberg was able to uplift the group with in-depth shiurim and a day of lively, powerful and meaningful farbrengen. Many of the other guests at the Ohel also greatly enjoyed the presence of Rabbi Wolberg and delighted in hearing him farbreng.
The brudershaft and kinship felt between all the chassidim, and the powerful sense of the Rebbe's spirit firmly still amongst us, was a feeling deeply embedded in everyones' hearts and will surely carry home with them too.