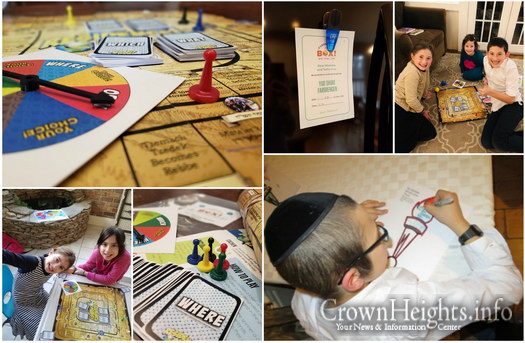 By N. C.
"Can I open it? Can I open it?" seven-year-old Pearl clamored as we tumbled through the door. My kids and I had just piled in after the one hour ride home from school. As jackets, shoes, and backpacks were tossed around the house, my daughter noticed the box on the table. It was MyShliach's latest Farbrengen in a Box, just in time for Yud Shevat! My kids crowded around to admire the exciting raffle prizes, authentic game pieces, and assorted craft materials. The invitation card was duly filled out and posted on the fridge. In our home, preparations for Yud Shvat had begun.
MyShliach launched Farbrengen in a Box two short years ago with 50 subscribers. Rabbi Mendy Shanowitz, director of MyShliach, pointed out to me that over the past 24 months, the program has expanded rapidly; 320 shluchim families happily received the kits in their mailbox last week. The numbers are a testament to the tremendous need that Farbrengen in a Box fills, particularly for shluchim like us who do not have the luxury of a Chassidishe mosad chinuch nearby. Each neatly packaged kit arrives with everything needed for a comprehensive, inspiring, kid-friendly farbrengen, ready for hundreds of junior shluchim around the country to enjoy.
As Tuesday evening draws near, my children read the guide and plan their jobs. Levi, 11, is reading the instructions and the interesting facts on the gameboard. Five-year-old Chana wants to be in charge of the raffle tickets. Even at age three, Meir feels the yomtovdik spirit in the air and hurries over to hand out tzedakah. My older ones proudly share the events of Yud Shevat on their own from the large, easy-to-read pages. Parental responsibilities are limited to general supervision; my husband starts a Rebbe video, I provide cookies. Of course, we are eager to participate.
The game and craft are definitely highlights for our family. The creativity, toichen, and professionalism are always incredible and this time we were not let down. Let's just say that by now my kids can probably tell you where the first public menorah was lit, what year the Mitteler Rebbe passed away, and even the phone number to 770! Mushka, 10, who says the game is always the best part, exclaimed on Shabbos, "I learned so much from this game. I even know what a chozer is now!" And of course, their newly designed keychains now hang proudly on their backpacks.
Feedback continues to pour in as many grateful shluchim express their appreciation to MyShliach. "My younger children, ages 10, 8, 6, and 3, enjoyed every part of it and were so inspired and excited to write a pan to the Rebbe at the end of the farbrengen," writes Mrs. Zisi Cunin of Pacific Palisades, California.
As I listen to my children saying a line of Tanya or singing a niggun as part of their eighth round of MyShliach's "Residence Quest" game, I am sure the Rebbe is shepping nachas from his little soldiers doing their part to bring the shechinah one step closer to the ultimate residence—the dirah betachtonim.
The next Farbrengen in a Box is scheduled to reach homes just before Yud Alef Nissan and we can't wait to see what they have in store.
MyShliach is a project of Merkos L'Inyonei Chinuch Suite 302.