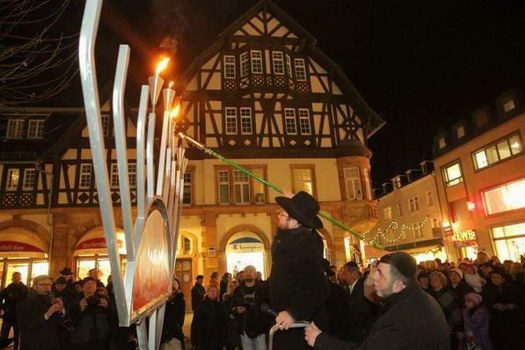 Municipality in Germany Contributes To Local Jewish Revival
by Mendel Levin – Lubavitch.com
"Today we are making history, for our city and for our people," Rabbi Shalom Rabinovitz, Chabad emissary to Bad Homburg vor der Höhe, Germany, announced at the inauguration of the city's first synagogue in eighty years. "It was here that a country attempted to take away the last breath of life from the Jewish people, and it is here we open a synagogue to breathe new life into the Jewish people."
These words were spoken at the site of a former ancient synagogue, destroyed in 1938. The new synagogue project began in 2010 when Rabbi Rabinovitz and his wife, Mina, moved from Israel to Bad Homburg, which borders Frankfurt, as Chabad emissaries to bolster the tiny Jewish community of 600. They created a Jewish kindergarten and a Hebrew school, and they hold weekly Shabbat services. But they wanted the city to get involved in their efforts to revive the Jewish community.
They saw their opportunity when Bad Homburg, together with the rest of Germany, commemorated Kristallnacht—the nights of November 9 and 10 in 1938, when city officials and residents destroyed synagogues, vandalized homes and business, and attacked and murdered Jews throughout Germany. Rabbi Rabinovitz built on the momentum of that occasion and lobbied for the then government-owned building to be given to the Jewish community. His efforts were successful.
With the support of philanthropist and community leader Evgeni Sternburg, the building was renovated into a beautiful synagogue with modern furnishings.
The inauguration of the synagogue commenced with a heartfelt Kel Malei Rachamim by Brooklyn, New York, resident Rabbi Shimon Herz, in remembrance of his grandfather, Bad Homburg's last officiating rabbi before World War II, who perished in the Holocaust. "Today I have seen the end of an eighty-year-old cycle. In the morning, I said Kaddish for my grandfather who met his end here, and in the evening, I say the traditional Shehecheyanu blessing for the birth of a new era," said Herz.
The change in this small German town from Kristallnacht to today, was highlighted in the welcoming address by the Lord Mayor, Alexander Hetjes. He explained why the city gave the Jewish community a building for the new synagogue. "This building is given to the Jewish community because we want more Jews to move here and for the existing community to grow and flourish."
Gadiel Mayrov, a local resident of Bad Homburg, was enthusiastic about the city's decision. "When the nation that sought to destroy the Jewish people facilitates the inauguration of a new synagogue, that's when you see in front of your eyes the eternality of our people. You see am Yisrael chai!"
For more information and to support Chabad of Bad Homburg, visit www.Chabad.de.