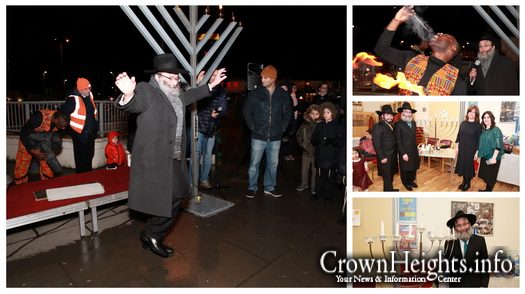 The rain and the wind did not hold back the 150 strong crowd who came along to celebrate the lighting of the Chanukah Menorah on Saturday night.
Guests including, Member of Parliament, Wes Streeting, and the Leader of Redbridge Council, Jas Athwal, each addressed the large crowd and shared a message of hope and unity for the entire borough and beyond.
Rabbi Aryeh Sufrin MBE & Devorah Sufrin, Executive Directors of Chabad North East London & Essex, welcomed all to the celebrations where he shared a modern day message for Chanukah.
He said: "This is the sixth and final public celebration attracting thousands of people that has taken place since Sunday, the first night of Chanukah. Each in a different location, beginning on the first evening in Buckhurst Hill under the leadership of fellow shluchim Rabbi Odom & Henny Brandman to Fullwell Cross roundabout, where the Menorah is dedicated to the memory of our fellow Shliach and colleague, Rabbi Moshe Muller zl, to Epping our newest Chabad House, to Loughton, to Chigwell, and tonight the grand finale at the original Menorah lighting which Chabad began some 35 years ago. It's so nice to see the young and older gathering together in an act of solidarity and unity to celebrate the meaning of the Chanukah story in the modern day. Light dispels darkness, whether one finds themselves in a dark place emotionally, mentally or physically, we all have the ability to kindle a light and bring some peace and tranquility into the hearts and lives of those who need it most. Chanukah has a universal message and hence we display these lights on our streets, for all to take its message to heart."
Our guests Wes Streeting MP and Jas Athwal kindled the Shamash. Each of the other light was kindled by supporters and friends of Chabad. The last light was kindled by fellow Shliach Rabbi Odom Brandman and his family, as a token of appreciation for their dedicated efforts to Chabad Buckhurst Hill, and driving our very busy and full Chanukah program across Essex.
Street entertainment was provided for the children, followed by a well-attended Chanukah Party at the Chabad Centre in Gants Hill, with children's activities organised by our Shluchos, Li Rosendorff, Sara Hoch & Shira Malka. Live music was provided by Mendel Moses and the traditional latkes and doughnuts were served together with hot soup and further entertainment within the warmth of our new Chabad Centre.