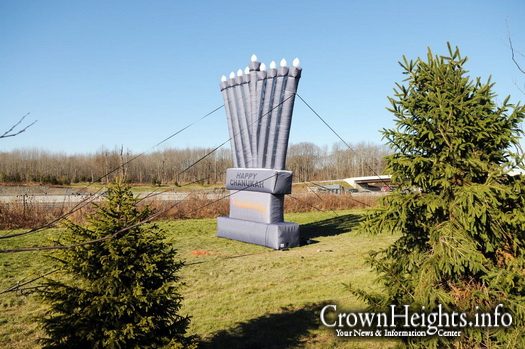 An innovative rabbinical student broke new ground this year by engineering and erecting a 30 foot inflatable Menorah that he placed near exit 8 on the New Jersey Turnpike.
by crownheights.info
Mendel Azimov, of South Brunswick, is a Rabbinical student with penchant for innovation. He tackled the big question, How can you create a massive Chanukah Menorah, but keep down costs significantly? For him, the answer was simple, an inflatable Menorah.
To showcase his new idea, he erected the 30 foot inflatable menorah right off exit 8 on the New Jersey Turnpike.
"This menorah, it's one of a kind," says Rabbi Levi Azimov, with the Chabad of South Brunswick. "The size of it, the mechanics of it. We have good friends here that own this company. We have their permission to put up this beautiful menorah to shine light to all the motors up and down through our New Jersey Turnpike"
For inquiries, or to place an order, email: Inflatablemenorah@gmail.com