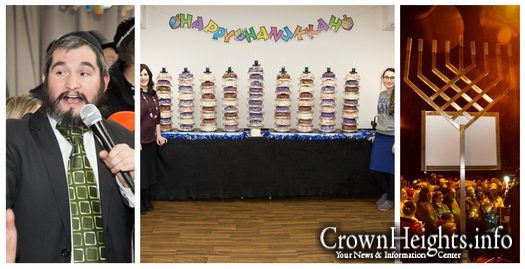 by Laurie Rosenberg
People have turned out in unprecedented numbers in Buckhurst Hill, Essex, for First Menorah Lighting of the Season.
Over 300 people turned up to join Rabbi Odom Brandman and his Community of Chabad Buckhurst Hill, to light the first lamp of Chanukah on Queens Road, in the heart of Buckhurst Hill, Essex, yesterday.
This unprecedented number of people, more than double than have ever attended in the past, caused a few issues as doughnuts and hot chocolate rapidly ran out, but that didn't take away the delight of Rabbi Odom Brandman who was totally unprepared for such a large turn-out.
"When we first moved to Buckhurst Hill, to grow and support the local community, a Public Menorah and Chanukah celebration was one of our first projects. I'm delighted to announce that this is the 13th Year that a Menorah is standing here at the top of Queens Road, in the centre of Buckhurst Hill, but we never imagined that we'd have so many people turning up for an event like this!"
Rabbi Brandman thanked the Buckhurst Hill Parish Council for allowing the candle lighting to take place and the members of the community that helped erect the Menorahs, light them each night and arrange these events. This was the first of six Public Menorah Lighting events that Chabad is arranging over Chanukah.
Rabbi Brandman shared with the large gathering a very moving and deep message of Chanukah, that each person has the potential to be a Lamplighter, it is our responsibility to realise that potential and share light and inspiration with others especially through doing and spreading acts of goodness and kindness.
Following the public lighting over 175 people joined the Rabbi and the community for a Food Fest Party in the Synagogue on Epping New Road, featuring the World's Largest Cake Menorah, which measured 2.5 meters across and was 1.65 meters high. Over 800 latkes in a variety of flavours were made and all went extremely quickly. There was live music, crafts for the children and plenty of food for everyone. Chabad Buckhurst Hill have become famous for their Menorahs over the years, they have made a Whisky Menorah, Recycled Phones menorah, Tombola Menorah and many more unique and wonderful creations. This years Menorah was the brainchild of Leah Sacks, one of the girls on Shlichus in Buckhurst Hill this year, who designed and built the Menorah together with Sheina Edelman, her partner on Shlichus. They baked all the cakes, iced them and built the frame to hold all the cakes. At the event, the Menorah was lit and then cakes were given out, everyone was encouraged to make a small donation in exchange for the cakes!
Festivities continue throughout the week across Essex.
One delighted participant said "This is absolutely breath-taking, to see so many people standing proudly and being able to celebrate their Judaism publicly. We are a community making a difference to the area with our warm and non-judgemental approach to Judaism".
Chabad Buckhurst Hill has been serving the local community since 2005 when it was established by Rabbi Odom & Henny Brandman, since then the community has continued grow and is a well-known address for people to turn to.