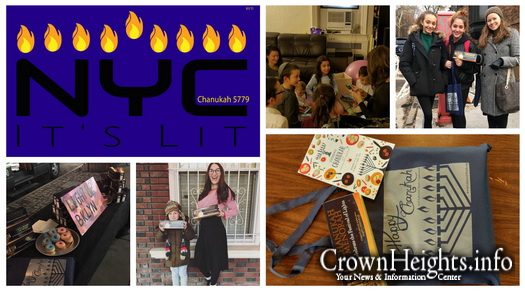 by Sara Spielman
Lubavitch Youth Administrator, Rabbi Shlomo Friedman, is once again making Chanukah mivtzoim accessible to the Crown Heights community. This year through a new campaign called "NYC It's LIT," No matter your age or stage in life, there will be a way for everyone to get involved in mivtzoim.
Lubavitch Youth is working with the Crown Heights schools helping to coordinate class trips to nursing homes. Families are welcome to sign up and reserve their slot for a visit as well.
Young couples are also encouraged to get in touch with organizers, to get a list of contacts and Chanukah supplies to bring along to families in Brooklyn apartment buildings. Previous year's participants went door to door in Brighton Beach at an apartment building filled with Jews. They asked the families with mezuzahs if they want to light the menorah. The outcome was lighting up a Russian families homes with a memorable party.
In Towners Social, also known as ITS, a new after school program for High school girls, is partnering with Lubavitch Youth to Share Chanukah on the streets. Also involved are post seminary girls who will have the opportunity to get Chanukah to the masses.
"My happiest moments on Chanukah was when I was sharing Chanukah with another Yid, lighting the menorah with a family that would not have," said Fraida Warmflash, one of the organizers of the project.
"The idea is to light up someone's Chanukah, who may not have had the opportunity otherwise," Rivky Katz from Lubavitch Youth explained. "Each menorah has a story and belongs to someone, we just need to figure out who's it is. Each person in Crown Heights is a shliach to go on mivtzoim, share the light and miracle of Chanukah."
To sign up, help sponsor the project or learn about the different mivtzoim opportunities visit: Lubavitchyouth.org/Chanukah
Call: 718-953-1000 Hours: 9:00AM-6:00PM
Email: mivtzoim@lubavitchyouth.org
Watsapp/text: 845-393-1951