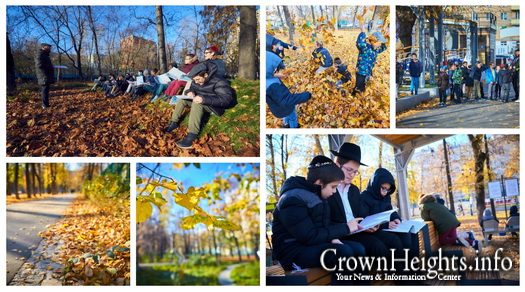 This month, the Moscow municipality has completed construction of its third spacious park in the highly Jewish Marina Roshcha neighborhood in the center of Moscow. This neighborhood is famous for its Jewish Community Center and central Synagogue under the auspices of Chief Rabbi of Russia Rabbi Berel Lazar.
All three parks are located in this large neighborhood, and its activists and school directors are very grateful to the municipality, and the city mayor, for bringing such joy and pleasure to the thousands of children who live and study in this famous neighborhood. Local city officials were praised by the community leaders, who expressed their satisfaction with the multi-billion-ruble investment.
With just a few days left before the arrival of the Russian winter, Moscow photographer Levi Nazarov went out to capture the fall foliage at the spectacular new parks, and caught the Talmud Torah students enjoying their leisure time there.
Novoslobodsky Park, located in the western area of the neighborhood, was built about fifty years ago, and was now treated to complete renovations from the foundations up.
Festivalniy Park, located in the north is a new and highly invested park where one can enjoy nature and get invigorated by the fresh air.
Detsky-Tversoy Park, in the east, was built about a hundred years ago, and has now been extensively renovated sparing no expense. It excels in special facilities for children and youth.
During the next few weeks, the area around the shul will be getting a major face lift. Moscow's municipality is concluding renovations along the entire street connecting the main synagogue to the Shaarey Tzedek Chesed Centre, which includes the large Jewish Museum, the Talmud Torah, Mesivta, Girl's School, and Mir Intellect Jewish Day School. The renovations include upscale cobblestone sidewalks, a wide and well-planned road, special lighting, and landscaped gardens that will make the area look prestigious and inviting as is befitting for the thousands of visitors who come to its synagogue and many institutions.
photos by Levi Nazarov