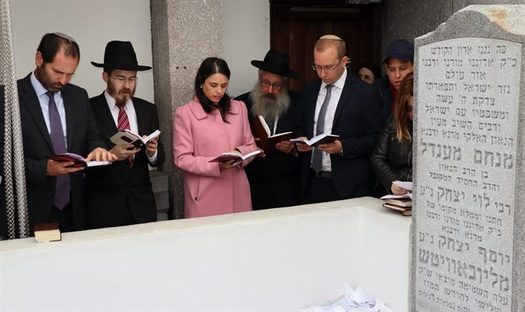 Ayelet Shaket visits the Rebbe's Ohel in Queens New York
Justice Minister Ayelet Shaked visited the grave of the Lubavitcher Rebbe in New York Sunday. Shaked lit a candle in his memory, recited Psalms for the success of her family and the State of Israel, and left a note with requests, as is the custom at the site.
Rabbi Moshe Kotlarsky, the director of the Kollel Chabad, Rabbi Shalom Duchman, and Rabbi Menachem Brod, Chabad emissary and community leader of the minister in north Tel Aviv, accompanied Shaked during her visit.
"The Chabad movement is doing holy work around the world and is helping many Jews wherever they are," said Shaked. "I had the honor to visit the Rebbe's tent today, to speak with the leaders of the community and to hear about the Rebbe's special leadership."