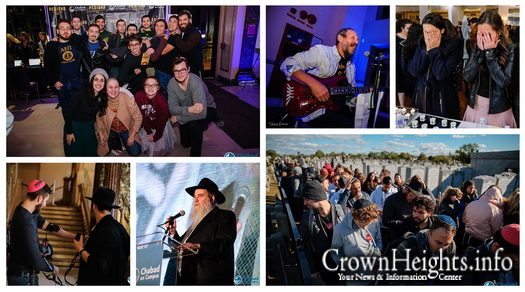 Jewish students from around the world joined together this weekend for the annual Chabad on Campus Pegisha in New York City. Organized by Chabad on Campus International, the event is one of the highlights of Jewish campus life. All 1,000 students in attendance, 200 of whom were graduate students,  felt inspired, proud, challenged and connected by the Shabbaton.
The weekend opened with bus tours of New York City, followed by walking tours of Crown Heights, the heart and hub of Chabad. Students got a glimpse of the vibrant Jewish community of Crown Heights and had the unique chance to see the personal study of the Lubavitcher Rebbe in "770".
After an inspiring candle-lighting and Friday night service, students were graciously hosted for Shabbat dinner by hundreds of Crown Heights community families. Afterward, they participated in sessions that covered topics as diverse as "Science and Judaism" and "The Kabbalah of Love."
Shabbat morning commenced with Shacharit prayers. Rabbi Eliezer Sneiderman ran an educational exploration of prayer using text, discussion, and movement for those who were less familiar with the traditional prayer services.
At the delicious Shabbat lunch, Pegisha participants heard from Chabad on Campus International CEO Rabbi Yossy Gordon. With an afternoon of fascinating sessions to choose from, participants had some tough decisions to make.
Myron Sugarman, the "Last Jewish Gangster," shared his experiences in the Mob and protecting the Jewish community from racist gangs. Shlucha Manya Lazaroff gave advice on dating with a sober, sensible mindset. Rabbi David Aaron ran a session on living with purpose while Rabbi Mordechai Dinerman uncovered the leadership secrets of the Baal Shem Tov. "Dr. Laz" told the story of Project CURE, which built relationships between the local Jewish and African-American communities.
Benjamin Posner, a student at Penn State University, considered Rabbi Aaron's lecture to be the highlight of the Pegisha.
"It gave me some clarity of why G-d put me on earth and what the purpose of life is," he said. "I feel really connected to the Jewish faith and to my heritage. I don't come from a traditional Jewish background but this weekend, meeting so many people from so many different backgrounds has really helped me discover who I am as an individual and as a Jew."
The Chabad student Presidents' Club held a special meeting in the afternoon. Student group presidents from different universities discussed their shared challenges and learned from each others' ideas and successes.
Following an inspiring Havdalah and dancing, students partied the night away at Pegisha Vibe with delicious food stations, mitzvah stations and walking entertainers. This was followed by a kumzitz and a fabrengen.
Gabriel Gabrilov, a senior at Fitchburg State University, Massachusetts, said being around so many other Jewish students had a big impact on him.
"Being able to meet and network with people from different countries and understand their cultures helped everything formulate into one, because we're all Jews," said Gabrilov, who is studying accounting and finance.he said. He founded a startup, WeBoro, with a friend whom he met on a Chabad on Campus Poland trip.
The Pegisha closed on Sunday with an address from Rabbi Moshe Kotlarsky (Chairman of Chabad on Campus International), Rabbi Avi Weinstein (COO of Chabad on Campus International) and Rabbi Zalman Tiechtel (Chabad of KU Director). This was followed by a powerful visit to the Rebbe's Ohel.
"Pegisha is a highlight of the year and it's wonderful seeing so many first-time participants take part and experience a traditional Shabbat with a host family in Crown Heights," said Rabbi Gordon. "Pegisha blends that family Shabbat experience with the chance to meet and interact with a thousand other Jewish students. This year's speakers, davening and fabrengens will have a powerful, lasting impact on everyone who took part."