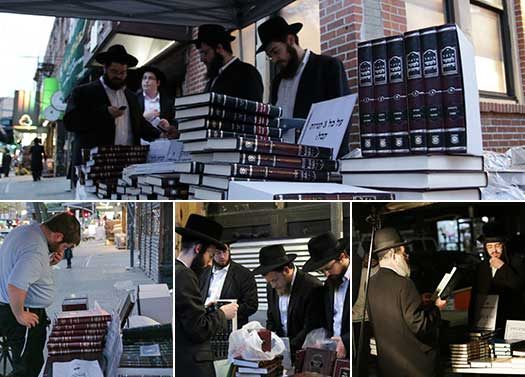 Organizers report that the Lag Baomer Chassidus sales enjoyed unprecedented success with thousands of books sold to eager buyers who took advantage of the subsidized prices.
During Lag Baomer "on-the-go" Chassidus book sales were held throughout New York to make available the light of Chassidus to all, regardless of background or previous Chassidus exposure attracting thousands of purchases.
The sales were held in a total of six locations, including three in Boro Park and one in Williamsburg, Monsey and Lakewood.
The success was a result of weeks of massive preparations and fundraising by the "Ohr HaChassidus" organization which heavily subsidized the prices of the books to encourage as many purchases as possible.
A primary innovation to this year's sales was the sale of a collection of books of Chassidic history and stories, in addition to the many popular Chassidic titles like Tanya, Chassidus Mevueres and Likutei Torah-Torah Ohr. From among these the Yiddish version of the popular book, "Samarkand", describing life in the Chassidic underground during the years of Soviet persecution, particularly attracted much interest.
For those who were unable to visit the sales, the opportunity was given to order books on the phone and by email. Indeed, during Lag Baomer the phone at "Ohr HaChassidus" headquarters did not stop ringing, with hundreds placing orders, including even out of town customers in Montreal and Chicago, who had found out about the sale from the "Likras Shabbos" publication which is distributed weekly in hundreds of Shuls throughout the world.
Special thanks goes to Kehos for their assistance in providing several thousand CD's of Chabad niggunim performed by the Nichoach Orchestra, which were given to every customer free of charge.
Mention should be made of the sale held in Lakewood, where it was held for the the first time, by the central Satmer Beis Medrash. Many of the visitors to the sale there spent time discussing with the bocherim manning the stands about the importance of learning Chassidus, and ended up purchasing books.
The organizers extend a hearty thanks to all the donors, especially the residents of Crown Heights, who ensured that the sales could be conducted in the best way possible.
However it does not end here. The organization already has extensive plans for sales to be held in several locations in the Catskills mountains during the summer, to where thousands of Yeshivah students will relocate for their studies at this time. There many more will be able to buy books of Chassidus and benefit from their study, fulfilling the words of Moshiach to the Bal Shem Tov that he will come "Lichshyofutzu Mayanosecha Chutzah".
"Ohr Hachassidus" is presently in the midst of a fundraising campaign to help cover the costs of these activities, and are turning to all to partner with them to help spread the teachings of Chassidus to every Jew.
Donate generously at: https://www.shutaf.im/lagsale