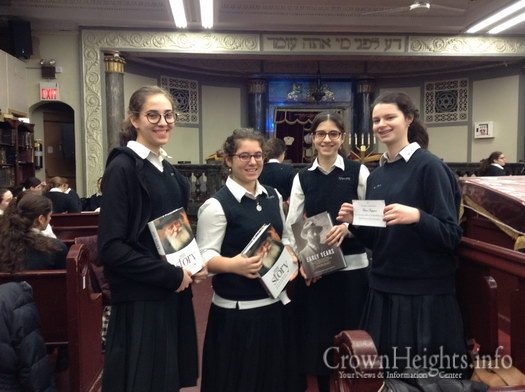 Students in Lubavitch High Schools have undertaken a new initiative – to document and share women's stories of The Rebbe. Titled "Our Story," this grassroots project is being done in conjunction with JEM's "My Encounter" and over the past six weeks dozens of story's – mostly from grandmothers, mothers and relatives – have been already been recorded.
Our Story is a grassroots project in conjunction with JEM's My Encounter with the Rebbe project to document and share women's stories of the Rebbe. Spearheaded and led by Leah Goldman and fellow Beth Rivkah seminary students, over the past six weeks, dozens of high school students at Beth Rivkah (Crown Heights), Bnos Menachem (Crown Heights) and Lubavitch Girls High School of Chicago, set out on a mission to record audio interviews of their mothers', grandmothers', aunts' and neighbors' special interactions with the Rebbe.
The top five stories have been chosen for publication and distribution. Here are the first two recordings that were sent out. This audio is intended for women and girls only.
1. Sheva Bronstein who interviewed her aunt Mrs Chaya Relis.
2. Chani Hecht who interviewed her grandmother, Mrs. Perel Rockford.
To listen to the next stories in the series, please text the word "subscribe" to the Our Story Whatsapp chat: 718.604.4690. More stories will be broadcast next month.
Following the successful start, preparations are underway to launch the next phase of the project in many more schools around the world. To contact the project leaders and get your school involved, email Leah at OurStory@jemedia.org.
A raffle was recently held among all the girls who recorded and submitted their stories. The winners are: Rika Mitnizki, Moussia Goldman, Altie Spielman, Chaya Mushka Lipskier, Chana Leah Lesches, Shterna Sara Vaisfiche, Chana Rapoport and Rochelle Rosenberger.
 Special thanks goes to SGM SOCHER Inc for their support in the project.
Rabbi Yechiel Cagen, director of JEM's My Encounter with the Rebbe project, has been overwhelmed by the response. "We had two goals with this initiative. Number one: to record these otherwise undocumented beautiful stories of the Rebbe and share them. Number two: to get the younger generation involved in recording them. Thank G-d, the success has been overwhelming. We're looking forward to expanding it."
Leah Goldman, director of Our Story, added by saying,  "If a few girls from New York were able to achieve such incredible results, imagine how many women's stories we can save if this project continued to grow to the rest of the world!"
JEM has tracked down and documented the stories of some 1,500 individuals over the past decade. But of that number, only 17% have been women. The Our Story project aims to record women's otherwise-untold stories, and share them with women around the world.
Stay tuned for upcoming announcements about the second phase of this project. To contact the project leaders and get your girl's high school involved or to subscribe to the series, email Leah at OurStory@jemedia.org or WhatsApp: 718.604.4690.