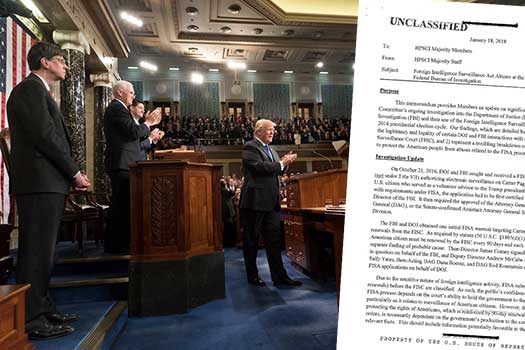 President Donald Trump ordered the release of a controversial memo, compiled by House Intelligence Committee Chairman Devin Nunes. The memo details abuses of the Foreign Intelligence Surveillance Act in targeting a U.S. citizen and volunteer for the Trump presidential campaign, based on information contain in the infamous and widely debunked dossier.
House-Intelligence-Committee-Report-On-FISA-Abusesopt

As expected president Trump declassified a house intelligence memo which accuses the justice department under Obama and the FBI of abusing their power and trying to undermine his campaign.
As we reported the Democrats, as well as the FBI, tried desperately to stop the publication of the memo. But despite their dire warnings president Trump cleared it for release today.
Here are the key points in the memo:
The Hillary Clinton campaign hired a group called FusionGPS to collect dirt on Trump. They then handed the information to the Justice Department.

Mr. Steel who worked for FusionGPS and put together the Russian dossier told the DOJ explicitly that he was desperate that Donald Trump not be elected president.

Senior DOJ and FBI officials knew the Russia dossier was politically motivated and originated in the Clinton campaign yet intentionally excluded this information from the FISA applications to spy on the Trump campaign.

The head of the FBI James Comey – who was later fired by Trump – signed three FISA requests. Rod Rosenstein the currently serves as deputy attorney general signed one or more FISA requests.

The Russian dossier was the bases of all four FISA warrant request to spy on the Trump campaign.

Andrew Mccabe who was the number two at the FBI testified that FISA warrants would not have been granted or even requested without the Russian dossier.

High ranking members in the FBI and the Mouler investigation orchestrated media leaks and discussed an "insurance policy" against president Trump.