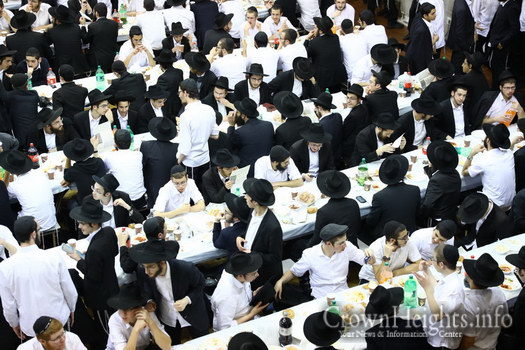 In honor of Yud Shevat – that begins tonight, thousands of Bochurim and Anash are headed to Crown Heights to celebrate the day of kabolas han'sius by the Rebbe. Under the Auspices of the Vaad Talmidei Hatmimim, a host of meaningful programming has been arranged, as well as a new location for those programs.
The Vaad Talmidei Hatmimim has arranged a host of programs to provide the residents of Crown Heights and the many guests a meaningful and inspiring experience starting Thursday night, through Shabbos & Motzoei Shabbos.
With Yud Shvat coinciding with Shabbos special arrangements are being made to accommodate the hundreds of Bochurim and Anash who will be spending Shabbos the Rebbe's Ohel. The Vaad has organized a complete program of shiurim and farbrengens which will be taking place with the participation of Rabbi Moshe Wolberg (Manchester), Rabbi Nochum Bukiet (Baltimore), Rabbi Menachem Schechter (Chicago), Rabbi Yosef Gourarie (Detroit), Rabbi Laime Wilhelm (Morristown) and others.
Motzei Shabbos the International Kinus Hatmimim will take place in Oholei Torah, with an upgraded program including three speakers – Rabbi Yosef Klyne, Rabbi Yosef Yitzchak Gurevitch and Rabbi Mendel Schapiro, a special video presentation and Farbrengens throughout the evening – as well as a special Mesivta Farbrengen program, led by Rabbi Mendy Blau
The Yud Shevat programming is made possible by: Reb Yossi Kazarnovsky L'iluy Nishmas his parents Rabbi Moshe & Mrs Liba Golda Kazarnovsky, Reb Kasriel Shemtov L'iluy Nishmas his parents Rabbi Mendel & Mrs Sarah Shemtov, Reb Yosef Yitzchak Popack in memory of his father Reb Shmuel Issac Halevi A"H & Reb Shmulik Aizenberg
For more info please email vaad@vaadhatmimim.org