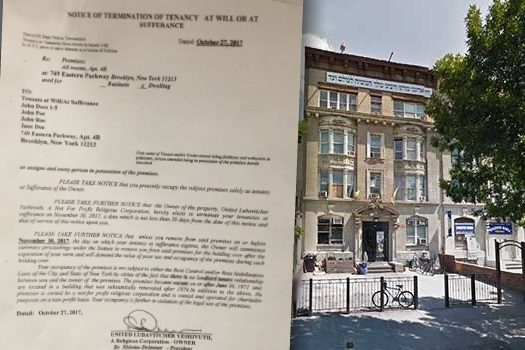 The board of United Lubavitcher Yeshiva is moving to retake control over the dormitory building at 749 Eastern Parkway, which has been occupied and controlled by unauthorized residents and outside provocateurs – many of whom are not even students in the Yeshiva – for over a decade.
The board, led by its current President Rabbi Shlomo Drimmer, posted notices inside the building on Monday, October 30th, notifying all residents of the termination of their tenancy, as required by law.
The occupiers of the building were given 30 days to vacate the building with all their possessions — by the 30th of November. Anyone remaining will be removed by force, the notice says.
The notice also informs residents that there are no "rent control" or "rent stabilization" protections available to them, for several reasons – one of which being that they never entered into a legal "landlord-tenant relationship" to begin with by moving in without the owners' permission.
The building's current dilapidated and dangerous condition is the culmination of many years of neglect and illegal "squatting" by unauthorized persons, who on several occasions resorted to violence to maintain their control over the property.
Things came to a head in December of 2015, when the Yeshiva's Hanhala threw up their hands and removed themselves from having anything to do with its management. After several months of not receiving payment for the building's utility bills, Con Edison cut off electricity to the building, prompting its residents to first camp out on the floor of 770, and later to dangerously open a pothole are reconnect the power themselves.
CrownHeights.info reached out to ULY Board President Rabbi Shlomo Drimmer, who informed us that the Yeshiva had no choice but to take these steps, because otherwise the city would have condemned the building and confiscated it. "If we do not take this action, the city made it clear that they will step in and take away the building," he said.
"The building is an immediate safety hazard," he continued. "There is no heat, and people are running extension cords to power electric heaters, which is a tremendous fire hazard."
He said that those who currently control the building approached the board and offered to go into partnership on the building's management, showing how entrenched and comfortable they are in their un-appointed positions – despite not even being students in the Yeshiva.