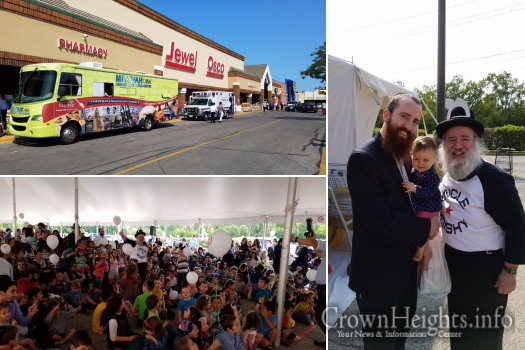 Chicago supermarket chain Jewel-Osco, which features one of the largest Kosher offerings in the Midwest, held their fourth annual "Taste of Kosher Food Fair" this past Sunday.
The event was their largest yet, with over 4,000 people attending throughout the day to sample Kosher foods displayed by over 50 different Kosher companies from around the U.S. and Israel. The event also included a live cooking demo with Chef Adam Kaufman of Mikee.
The event's entertainment featured Uncle Moishy on the center stage for a three segment concert. Following his performance was a photo-op session with him, and the line snaked around the building as customers vied to get their picture taken with the legendary children's performer.
Another big addition this year was having Jamie Geller in attendance, signing and handing out hundreds of her Joy of Kosher magazine, a special meet and greet with the customers plus walking the event and sharing her culinary thoughts and ideas with many of the Kosher vendors that were sampling product throughout the store.
A free Customer Appreciation Kosher BBQ was held, where the over 4,000 attendees enjoyed everything from freshly grilled Shor Habor hot dogs to delicious snacks and much more. Many Chabad Shluchim from all throughout Illinois and Wisconsin drove in to attend this event that truly exemplified "Mivtza Kashrus" in every term of the words. Rabbi Adam Epstein and the Lubavitch-Chabad of Illinois Mitzvah Tank could be seen making sure many of the attendees had a chance to put on tefillin both in the tank and around the store.
Albertsons Director of Specialty and Ethnic Foods, Yakov Yarmove, himself a member of the Chicago Anash community, organized this event to celebrate Jewel's "Bar Mitzvah" anniversary of opening this World-class Kosher store-within-a-store, and commented "It was such a Kiddush Hashem to see the throngs of people that attended this event, even surpassing the tremendous attendance we had last year, which really reflects how Kosher foods when offered to the public in a traditional supermarket setting, can really make it so much more accessible and easier for people to buy and keep Kosher."
In addition to this flagship store which boasts a full Kosher deli, bakery, butcher shop, fish dept, sushi, fresh salad bar, in store popcorn shop and even a Kosher Chinese restaurant; all staffed by a team of OU Mashgichim; Jewel-Osco also carries a Kosher offering in many of the balance of its 184 stores, especially in areas near Shluchim that cannot easily get to Chicago often.