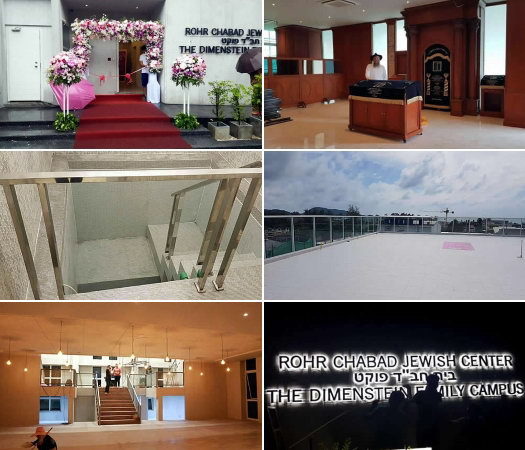 Seven-Story Thailand Chabad Center Opens Doors
From Chabad.org by Menachem Posner:
In the final few days of 2004, a tsunami ravaged the tranquil island of Phuket, Thailand, resulting in one of the worst recorded natural disasters in history. Within hours, Chabad of Phuket was born with a singular mission to save lives and administer critically needed aid to local residents and vacationers alike.
As the relief activities wound down, Chabad of Phuket remained to serve Jewish tourists—in particular, young Israeli backpackers—who were once again streaming to the island paradise.
In the decade since its founding, Chabad's activities have grown steadily. On a daily basis, tourists find a home away from home: an oasis of Jewish values, mitzvah observance, Torah wisdom, Shabbat meals and kosher food.
It soon became clear that its premises, which comprised a collection of three shop houses (Asian-style buildings with retail space on the ground floor and a small residence above), was too small.
In 2016 alone, some 10,400 Shabbat meals were served and an additional 27,000 meals eaten at Chabad's kosher restaurant.
To accommodate its burgeoning operation, ground was broken in August 2015 for a new building that includes a mikvah, a sanctuary with room for 300 worshippers, a restaurant with seating for 200, a social hall with seating for 400 and a rooftop chuppah. Also in the works are residences for Rabbi Menachem Mendel and Miriam Segal, who co-direct Chabad of Phuket, as well as visiting rabbinical students who assist them in their work.
It is estimated that the new center will serve upwards of 500 visitors a day.
The seven-story, 26,000-square-foot facility was inaugurated on Aug. 27—just weeks before the start of the High Holidays—by Chabad Rabbi Yosef C. Kantor, chief rabbi of Thailand, and other Chabad emissaries who serve in Bangkok, Chiang Mai and Ko Samui.
The Friday-night festivities were attended by 400 guests, with similar numbers expected in the weeks and years to come.
"Until now, this Chabad center has been associated with tragedy, founded in the wake of death and destruction," said Rabbi Kantor at the inauguration, which spanned an entire weekend. "This new building is one that is associated with goodness, comfort, joy, rebirth, growth and positivity."