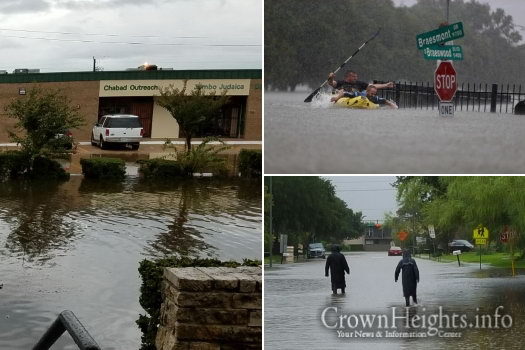 Homes, cars and streets throughout Houston are under water as torrential rains from Hurricane Harvey—now downgraded from a Category 4 hurricane to a tropical storm—continue to drench the city and cause catastrophic flooding throughout the region. At least five people have died as a result.
More than 15 inches of rain has fallen as of Sunday morning in some parts of the city with more expected, and people are being urged to stay indoors since the water is rising so quickly. In the Meyerland neighborhood, a center of Jewish life in the city, more than 14 inches of rain has fallen so far.
As the waters continue to rise, families have taken to putting life jackets on their children to ensure that they will stay safe in an evacuation. At least one Jewish community member was reportedly stuck in his car overnight.
"Parts of our community have been impacted by the severe weather of the past two days," the Jewish Federation of Houston posted Sunday morning on Facebook.
"We are working with our partner agencies to assess the current situation in our community and determine priority on action items. We will communicate out as soon as we know how best to move forward in the short and long-term," the organization wrote.
"I am sad to report that many of our friends who flooded in the recent past are flooded once again, and there are many others who have never been flooded before," Rabbi Chaim Lazaroff of Houston told Chabad Org. He and his wife, Chanie, are co-directors of Chabad of Uptown in the Meyerland area. "The rain is not stopping," he said.
Chanie Lazaroff added, "There is a lot of tension, and the hard part is that it's far from over. There's a lot of rain coming, and safety is the most important thing."
The videos and photos below were shared with us by a CrownHeights.info reader who resides in Houston. They were taken in the Frum neighborhoods, near Chabad, Young Israel and the Kollel of Houston.