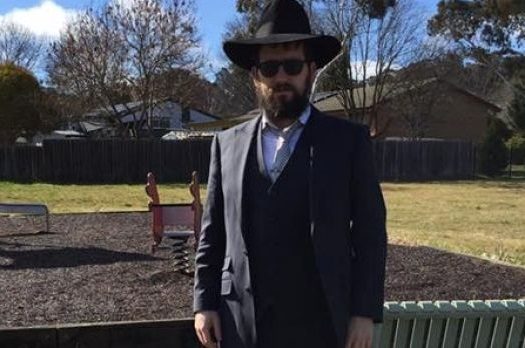 Rabbi Shmueli Feldman stands behind the graffiti near his synagogue in northern Canberra, Australia.
Australian Capital Chabad Tagged with Swastika
The Chabad Shliach to Canberra, Australia's Capital Territory, has spoken out against the rise of hate crimes after a playground near his synagogue was vandalized with swastika graffiti.
From The Canberra Times:
Rabbi Shmueli Feldman, who lives in the area with his young children, said the graffiti had appeared at a playground near the Chabad ACT synagogue in the suburb of Giralang.
"We bring our kids to the park there and many of our community members live in the area," he said.
"We found it there in the park. It was very, very disturbing to see."
Canberra was typically a very peaceful city to live in, although Rabbi Feldman wondered whether such incidents were becoming more and more common.
"It's troubling," he said.
"We haven't had this so much in Canberra before. Yes there have been anti-semitic incidents here and there, but I myself have seen a spike and it's worrying.
"In our community we've had nearly double the number of incidents in the past three months, as we have in the past year."