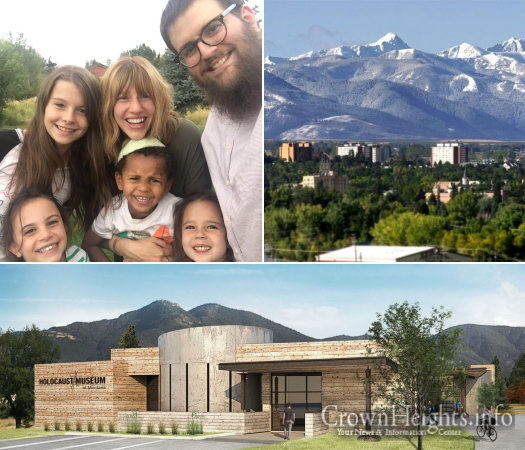 Holocaust Museum of Montana, a recently formed nonprofit by Shluchim to Bozeman Rabbi Chaim and Chavie Bruk, announced its plan to build an educational facility on 5 acres of land in the city.
From the Bozeman Daily Chronicle:
While white supremacist and neo-Nazi groups have rallied across the country in recent weeks, a newly formed Bozeman nonprofit plans to build a museum that it hopes will both provide a history lesson and warn of the dangers of repeating the past.
The Holocaust Museum of Montana is set to build a facility in Bozeman dedicated to educating the public and addressing diversity across the state, the group announced this week.
Located on a 5-acre parcel of land on Bozeman Trail Road north of Kagy Boulevard, the preliminary design includes a library, several galleries, classrooms and a multi-media room.
"The Holocaust is a terrible event that affected the whole world and we want to remember and understand it, but not dwell on it and stop there," said Chavie Bruk, executive director. "Our focus with this museum is taking that, propelling that and using our past to help create a brighter future."
Bruk and several other community members began planning the museum earlier this year.
Click here to continue reading at the Bozeman Daily Chronicle.
Holocaust Museum of Montana from Holocaust Museum of Montana on Vimeo.