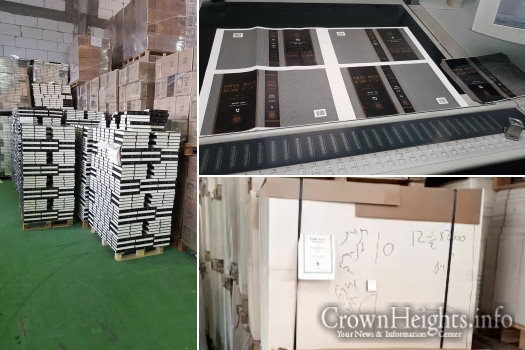 2,000 Sets Not Enough: Toras Menachem on Sale Again
After setting an amazing record of selling 2,000 sets of the sixty Seforim of Toras Menachem in under 72 hours, Vaad Hanochos Belahak was contacted by many who were upset for having missed the opportunity to purchase the set for themselves. Now, the Vaad is announcing that those who missed out can once again place orders at the same subsidized price.
Vaad Hanochos Belahak, the official organization for publishing the Rebbe's torah in Hebrew, is proud to announce yet another sale on the first sixty volumes of Toras Menachem.
As you may be aware, just two months ago Lahak organized a sale on these volumes, many of which were out of print for many years. The sale succeeded well beyond their expectations, and the stock soon ran out. Many members of Anash, Shluchim bochurim and others expressed their disappointment at having been unable to participate in this incredible sale.
The staff of the Vaad, headed by Rabbi Chaim Shaul Brook, has decided to provide a second chance for those who wish to quench their thirst and partake of the Rebbe's timeless words.
In connection with Chof Menachem Av, 5777, marking the seventy-third yahrtzeit of the Rebbe's father, Rabbi Levi Yitzchak Schneersohn, Lahak's website is featuring the option of signing up for this sale. You will be able to order your set of sixty volumes of Toras Menachem, including the Rebbe's farbrengens of the years 5710–5730.
Upon registration, the participants will be asked to pay the minimal sum of $440 (or 1600 ILS in Israel). The Sefarim will be printed in Kislev, 5778, and will be ready for distribution before 15th of Shevat.
The sets will be available for pickup at the offices of Lahak in Crown Heights and at the Kehos store in Kfar Chabad. Alternatively, delivery is available to locations in the U.S. (for an added fee of $120) and Israel (for 100 ILS).
Visit Lahak's website and order your set today www.lahak.org/shishim.
The sale will continue until Chai Elul, September 9th, or for as long as supplies last.
For more information, contact Lahak at 718-604-2610, or Kehos in Israel at 03-9606-018.