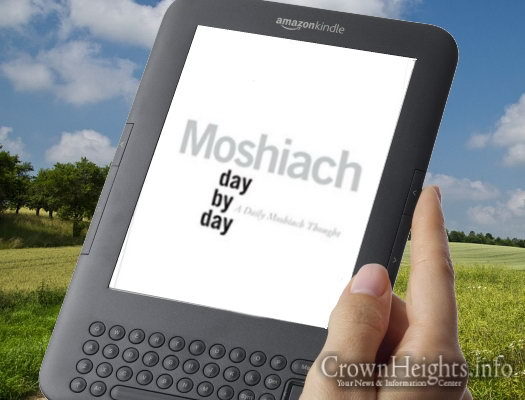 For many years, the Rebbe urged everyone to learn about inyonei geula u'Moshiach. The Rebbe declared that learning about Moshiach, the Geula, and the Third Bais HaMikdash directly hastened the Redemption. While there were numerous books that described various aspects of Moshiach, there was nothing that could "walk" a reader through every aspect and stage of Moshiach and Geula in an inspiring yet practical way.
In 2010, the Vaad of the Kinus HaShluchim decided to do something to bridge this gap. Vaad members acting as part of the Moshiach Campaign approached Rabbi Michoel Seligson and Rabbi Benyomin Walters. They tasked them to develop a vehicle for learning inyonei geulah and Moshiach in a way that could be internalized. To achieve that goal, it was decided to explain one vital topic each month by making a key point every day. The effort required hundreds of hours reviewing seforim of all the Rebbeim, organizing the material, and digesting it for a broad audience. Each month, the results were distributed to Shluchim and community rabbis, who provided comments. The contents were then refined and edited and published in a one-volume book, Moshiach Day by Day.
Moshiach Day by Day was distributed at the Kinus HaShluchim in 2011, and soon became out of print. Over the last several years, committee members reviewed the published manuscript and corrected errors that had occurred during the rush to get it produced. Now thanks to print-on-demand technology developed by Amazon, Moshiach Day by Day is available once more.
Moshiach, Day by Day covers a wide range of topics and concepts, from the connection between Moshiach and personal liberty, to the link between Moshiach and the new moon. Every page features a clear, concise thought for that day that's easy to share in shul or on the phone. Moshiach Day by Day is a spiritual battery-charger that will jump start the acts the Rebbe said would hasten the Geulah.
The book is available at https://www.amazon.com/Moshiach-Day-Daily-Thought/dp/1974283321/ref=sr_1_1?s=books&ie=UTF8&qid=1502119894&sr=1-1&keywords=Moshiach+Day+by+Day.
In addition, an electronic version is available through Kindle. The e-book can be viewed on an electronic reader, smart pad, or smart phone using the Kindle App. It can be ordered at: https://www.amazon.com/dp/B074MH1MZ7.
The publication committee would like to thank the members of the Vaad of the Kinus HaShluchim, and its chairman, Rabbi Moshe Kotlarsky for their support and encouragement in making Moshiach Day by Day available once more.