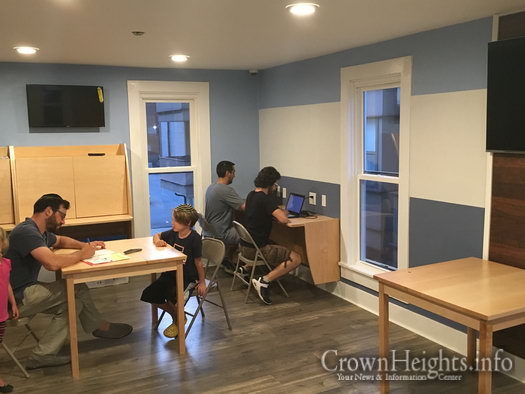 Chabad at the University of Illinois has unveiled a purpose-built innovation and study co-working space. The concept was suggested by U of I alumni Steve Mendes, the project was funded in part by the Chicago Mercantile Exchange and the Goldstick family, and aims to create a new hub for innovative students at the University of Illinois to learn more about the basics of entrepreneurship, enable them to source internships in their chosen field of study in a collaborative environment.
Work to open the CME Goldstick Tech Innovation Lab in the Illini Chabad Center started in mid-May and is in its final stages of construction with a grand opening planned for the beginning of the school year. There are an estimated 4,000 Jewish students living on the U of I campus. A majority of them are involved in Chabad activities.
At the moment, unfortunately, students have to choose between working in their cramped dorms or studying in a university library, which are only open for limited hours, doesn't offer access to kosher cooking facilities, and offers limited networking opportunities.
"Chabad seeks to support the students' professional ambitions and personal needs through the project," said Rabbi Dovid Teichtel. "We want students here to feel part of a vibrant community. Connections with others are a big reason why people study in a communal space, as opposed to working from their dorm. This co-studying space has its own vibe, and the U of I Chabad House has gone to great lengths to cultivate a unique experience that meets the needs of their respective students." One of the major benefits of the lab will be its function as a common space to work on projects and offer thought-leadership programming on various topics with Mentors who are industry leaders in their respective fields.
"Whereas various university libraries are closed in the evenings, this Chabad co-studying space will feature extensive opening hours, meaning that students can create their own schedules. They can go to the gym, put in a shift at work, and also find the time to settle down to study. In the same place, they can also enjoy kosher food, attend Torah classes and connect with other Jews on campus," Tiechtel added.
Jeffrey R. Brown, the Josef and Margot Lakonishok Professor of Business and Dean College of Business University of Illinois views the Innovation Lab as an important contribution to the University. "The College of Business has made the teaching and practice of innovation one of our highest priorities, said Dean Brown. "This space at Chabad will join our MakerLab and the forthcoming Siebel design center on campus to provide students with opportunities to study, create, innovate and collaborate together, making the University of Illinois a premier destination for students who want to make their mark on the world."
Said Rebecca Schraiber who graduated last year with a master's degree in accounting and now works for PwC: "The lab will serve as another vital support system provided by Illini Chabad to its students. Many don't know that Chabad isn't just for Shabbat or the high holidays. Rabbi Dovid and Goldie work tirelessly to ensure that it  is there whenever and for anybody. Therefore, this lab serves as an extension of all that Chabad has to offer its students."
The Chabad Jewish Center at University of Illinois & Champaign-Urbana is located at 509 S Fourth Street, Champaign, IL. More information is available at http://www.jewishillini.org/