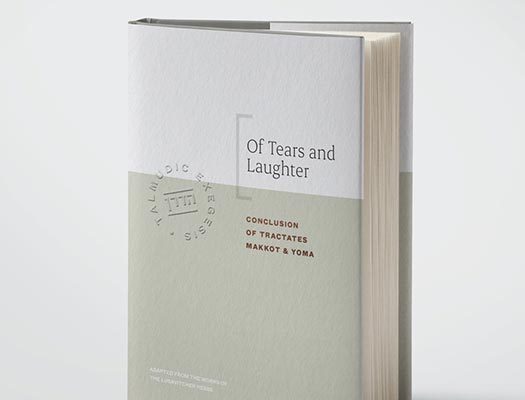 A new book by Kehot in English presents a Talmudic exegesis by the Rebbe. Adapted from two siyumim delivered by the Rebbe (on tractates Makkot and Yoma), Of Tears and Laughter focuses on two moving Talmudic stories that occurred in the aftermath of the destruction of the second Beit Hamikdash.
Adapted and translated by new Kehot writer Rabbi Eli Block, the slim volume is being released in time for study during the nine days, when it is customary to make siyumim. The subject matter, too, is related to Tisha B'Av.
Four sages left their studies and boarded a ship to Italy, relates the Talmud at the close of Tractate Makkot. When they heard the din of the city of Rome from as far away as 70 miles, three of the rabbis began to weep. Rabbi Akiva, however, laughed. With the Beit Hamikdash destroyed and the Romans celebrating the Sages had good reason to cry, but Rabbi Akiva said: "I rejoice for that very reason. If this is the lot of those who transgress G-d's will, imagine what awaits those who fulfill it." The Talmud continues with a similar story, this time in the hills of Jerusalem.
"When the Rebbe dissects the conclusion of a tractate," writes Rabbi Block in his Introduction, "his analysis does not only unite far-flung sections of the Talmud, but excavates the interior of the passage—its personal implications, mystical definitions, allegorical murmurings,—and illustrates how they are integral to understanding the lines that end the Talmudic tractate."
With his unique, holistic approach to Torah study, the Rebbe explores the positions taken by the leading Sages of that time, and examines their lives and teachings. With a spotlight on Rabbi Akiva and his response, the Rebbe searches the Talmud for laws taught by Rabbi Akiva, his life's story and allusions to the composition of his very soul, to provide a comprehensive and insightful reasoning for Rabbi Akiva's optimism.  In the final analysis the Rebbe provides a breathtaking mosaic of the leaders of the Jewish people in the post second Beit Hamikdash era.
Of Tears and Laughter is available at: Kehot.com and at local Jewish bookstores.