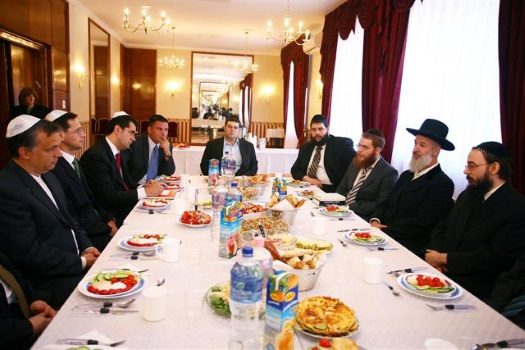 File photo: Prime Minister Viktor Orban (far left) with Rabbi Slomo Koves (third from right).
From the JTA:
Hungarian Prime Minister Viktor Orban vowed to protect religious freedoms in his country during a talk with foreign rabbis visiting for the opening of a large kosher slaughterhouse for geese.
Orban, whose right-wing government is currently under heavy criticism by the Mazsihisz umbrella group of Hungarian Jewish communities for its campaign against the left-leaning Jewish billionaire George Soros, received the rabbis last week in the Hungarian capital, his office's website said.
The visitors, including Ashkenazi Chief Rabbi of Israel David Lau, Rabbi Menachem Margolin of the European Jewish Association and Rabbi Slomo Koves of Hungary's Chabad-affiliated EMIH community, heard from Orban that "Hungary's Jewish community is under the unconditional protection of the Government" and that, "As with the other historic churches, Jewish congregations in Hungary also receive the full amount of available funding."
The foreign rabbis attended the opening of the slaughterhouse in Csengele, situated approximately 80 miles southeast of Budapest, Koves said. With a capacity for slaughtering 2,400 animals daily, it is one of the largest slaughterhouses of its kind in Europe and is under the joint rabbinical supervision of EMIH and the Chief Rabbinate of Israel.