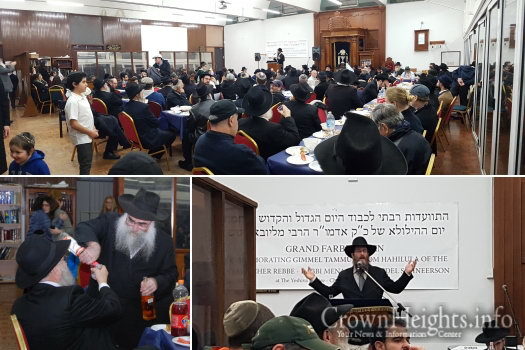 Rabbi Yossi Lew, Shliach to Atlanta, Georgia, spent a week in Sydney, Australia, to inspire and strengthen with the community in honor of Gimmel Tammuz.
Starting with an early Shabbos morning Chassidus shiur at the Yeshiva Centre to invigorate the day, Rabbi Lew shared pearls of the Rebbe's wisdom and contemporary anecdotes with the participants.
Following Shacharis services, the Yeshiva Centre joined with the Tzemach Tzedek shul for a pre-Gimmel Tammuz Shabbos Kiddush, where Rabbi Lew continued to share his personal experiences with the Rebbe as well as life on Shlichus in Atlanta. The Farbrengen continued throughout the afternoon until the end of Shabbos.
Following Shabbos there was a Milave Malka at the home of Rabbi Levi and Channy Wolff for Shluchim and Rabbonim, where Rabbi Lew spoke more about his personal challenges and convictions and his family's newest stage in their Shlichus in Peachtree City.
On Sunday, Rabbi Lew went to the city of Brisbane, Queensland, with Chabad Shliach Rabbi Levi Jaffe, and on Monday night he Farbrenged on Sydney's North Shore at the Chabad House of Rabbi Nochum and Fruma Schapiro.
On Tuesday morning Rabbi Lew was invited to talk at Kesser Torah College, followed by Yeshiva College, followed by a lunchtime Shiur at Chabad of the Central Business District with Rabbi Danny and Sarah Tova Yaffe.
On Tuesday night was the Grand Gimmel Tammuz Farbrengen at the Yeshiva Centre-Chabad NSW Headquarters, hosted by Rabbi Pinchus Feldman OAM, head Shliach to NSW and Dean and spiritual leader of the Yeshiva Centre.
Following Rabbi Feldman's welcome and opening remarks, a special 2-part video presentation of the Rebbe's life and a personal encounters episode were presented.
Live and joyous music was played by the Niasoff band, creating an uplifting atmosphere.
Rabbi Yossi Lew first spoke of an interesting story shortly after Gimmel Tammuz 5754, when Coca Cola contacted Chabad to discuss the Rebbe's approach to launching new campaigns.
Throughout the night Rabbi Lew spoke a number of times, sharing stories and experiences as well as insights into how we should live our end lives today.
Following the formal Farbrengen, Rabbi Lew continued to Farbreng until the early hours of Wednesday morning with those who were fortunate enough to stay.
The Farbrengen was coordinated by Chabad Youth NSW and Rabbi Elimelech Levy.