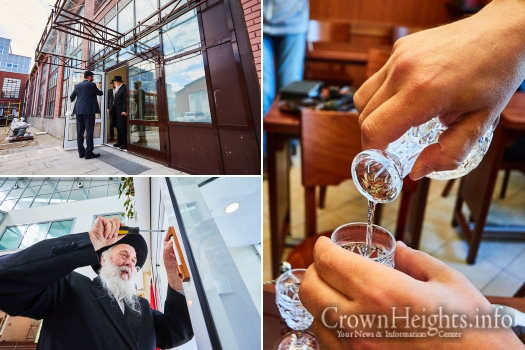 Rov of Nachalas Har Chabad and Mazkir of the Chabad Beis Din in Eretz Yisroel, Rabbi Yitzchok Yehuda Yeroslowski was honored with affixing the mezuzah to the newly renovated entrance of the Shaarey Tzedek Chesed Center in Moscow during his visit to the Russian capital.
The distinguished guest arrived in Moscow to partake in various Jewish events. These included the dinner commemorating 25 years to the renewal of the famous Bolshaya Bronaya shul under the leadership of Rabbi Yitzchok Kogan, the Tzaddik from Leningrad. Overseeing  the Jewish cemetery in the village of Lubavitch, and awarding Smicha certification together with Chief Rabbi of Russia Rabbi Berl Lazar, to the students of the Yeshiva Tomchei Tmimim Lubavitch.
The directors of the Shaarey Tzedek Chesed Center invited the honored guest to affix a mezuzah on the main entrance of the building, which has been recently renovated upon the request of Moscow city officials who declared the building an historical asset.
Later on the honored guest was given an extensive tour of the building, said Lechaim together, and davened mincha in the building's "Tefila leMoshe" shul on premises. He also signed in in the center's guest book.
The Shaarey Tzedek Chesed Center serves as a warm home for thousands of elderly and indigent Jews, supporting them and helping them with all that they need throughout the year.
Photos by Levi Nazarov