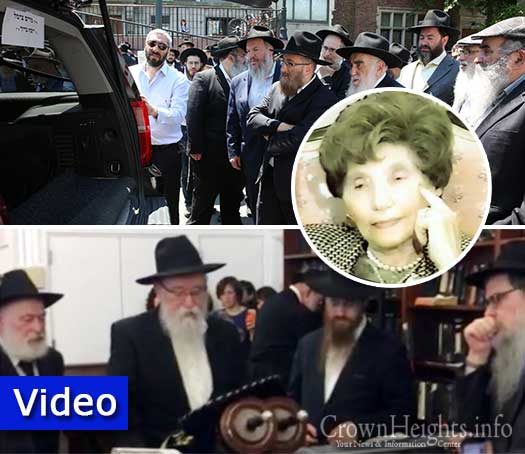 A deeply moving sight unfolded at the Montefiore Cemetery in Queens yesterday, Monday, as the Friedman family gathered together to bury their matriarch, Mrs. Miriam Tzimmel Friedman, OBM. Merely a few minutes after the burial was complete, cries of "Mazal Tov!" echoed through the Beis Hachaim – the Niftar's granddaughter had just given birth to a healthy baby girl.
There was not a dry eye in the room as the bereaved family gathered around a Sefer Torah a short while later to Daven Mincha and name the little baby girl – Miriam Tzimmel, may she grow up to Torah, Chuppah and good deeds.
Tears of sorrow mixed with tears of joy as the family, after having just bid farewell to their dear mother and grandmother, now welcomed her great-granddaughter and namesake into this world with the bittersweet singing of "Siman Tov Umazal Tov."
The baby girl was born to Levi and Brachi (nee Friedman) Perl of Kansas City.
In a video forwarded to CrownHeights.info by a member of the family, the new mother's father, Rabbi Bentzion Friedman, Shliach in Kansas City, struggles to compose himself as he says Kadish for his mother, and then follows it with a Mi Sheberach for his new granddaughter, who he is then privileged with naming. Watch the video below: