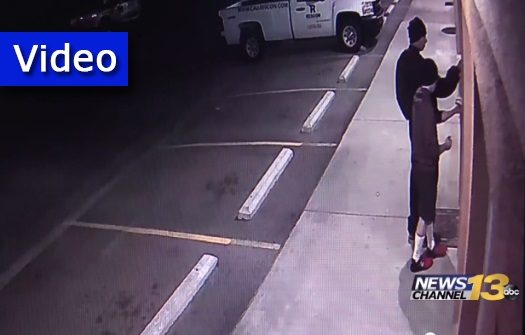 Colorado Springs Police are calling an act of antisemitic vandalism at the city's Chabad synagogue a hate crime. The incident was captured on surveillance video.
from Channel 13 News:
The crime occurred around 1:30 A.M. Saturday morning at the Chabad-Lubavich Center in Colorado Springs.
"Obviously you can imagine it's a very appalling thing. In this day and age this definitely cannot be taken lightly," said Rabbi Moshe Liberow, who founded Chabad-Lubavich Center in 2001.
Liberow was one of the first to notice two stickers on the Synagogue's front door Saturday morning which read "Fight terror, Nuke Israel."
This wasn't the first time Liberow has experienced anti semitism. A few years ago, a swastika was spray-painted on a menorah at his home during Hanukah.