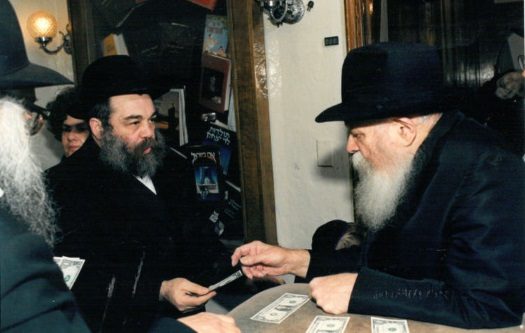 Rabbi Leibel Alevsky, director of Chabad of Cleveland, receives a dollar from the Rebbe in 1990.
'The War Will Be Over in 10 Days'
from the Cleveland Jewish News by Alyssa Schmitt:
A week before the Six-Day War began, Rabbi Leibel Alevsky was 28 years old and went to visit the Rebbe in New York for his birthday blessing, unaware he would receive an unbelievable prediction.
"Once a year, we could call for a private audience and receive a blessing for the rest of the year," said Alevsky, who grew up in Israel before moving to New York City.
At the request of his mother, Alevsky asked Rebbe Menachem Mendel Schneerson if his sister, who lived in Israel with her mother, should attend boarding school in the coming days when tension was running high.
"He said 'Do not worry. The war will be over in 10 days,'" Alevsky said the Rebbe prophesized – and he believed the Rebbe.
This was not the only time the Lubavitcher Rebbe made a prophecy urging his people to stay calm in the face of disaster. Another example Alevsky recalled was during the Gulf War, when the Lubavitcher Rebbe told his people to stay put and not to worry. His followers obeyed and no injuries were recorded, Alevsky said.
While American children who were at school in Israel traveled back to the United States to escape the war, Alevsky said those in Chabad schools stayed because they trusted their Rebbe's prediction.
"When he said not to worry, we trusted him," Alevsky said.
In the days leading up to the war, Alevsky said everyone in his community was scared for the people living in Israel.
"We didn't know what was going to happen," he said. "No one expected Israel to survive."
Click here to continue reading at the Cleveland Jewish News.