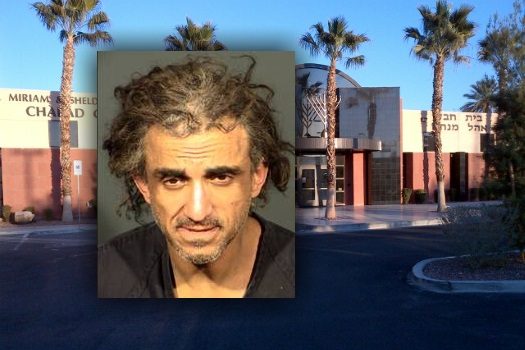 by CrownHeights.info Staff
Afshin Bahrampour, 47, was arrested on Monday night and charged with arson and burglary after he allegedly set two fires at the Chabad Center of Las Vegas on Sunday.
The suspect was booked into Clark County Detention Center and was charged with one count of arson in the first degree, three counts of arson in the third degree and one count of burglary.
FBI spokeswoman Sandra Breault said she cannot confirm whether or not the incident is being investigated as a hate crime.
Investigators are assessing the situation to see how the suspect will be charged, either on a state or federal level, Breault said.
Three cars were damaged in the incident, at least one severely. Earlier the same evening, a trash can was set alight in a restroom inside the building.
"Unfortunately, throughout the thousands of years of Jewish history, we've been targets of multiple attacks, attack after attack," Rabbi Levi Harlig, director of Chabad of Las Vegas, told NBC News following the incident. "God is with us and he protects us and the Jewish nation thrives. The Jewish nation is alive and we're getting better and were getting stronger."