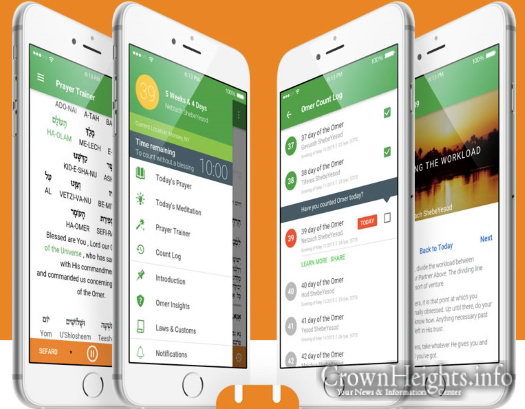 With its popular Omer Counter app now in its third year and the number of users continuing to climb, Chabad.org encourages more and more people to count the Omer and to inspire others to do the same.
"Through organic sharing, this app has, thank G‑d, reached a very broad cross section of the Jewish people," reported Dov Dukes, lead app developer at Chabad.org. "We're aiming again to get at least 1 million Omer counts from around the world."
Using completely anonymous data, the app's engine automatically keeps track of aggregated Omer counts and then updates the counter.
The campaign also seeks to educate people about Sefirat HaOmer and let them know that even if they missed a full night and day (or more), they can and should still count nightly until the end of 49 days (albeit without saying a blessing).
"The point is to help demonstrate that counting the Omer is an easy mitzvah we can all do during this time of year," affirms Dukes. "The app makes it all that much easier, and the campaign adds another incentive to get people to join in something positive and inspirational. As I see it, this is just one more way to make every day count—quite literally."
Latest Success for Jewish Apps
The "Omer Counter" app is part of Chabad.org's Jewish Apps Suite, which strategically leverages Chabad.org's content and know-how to make Jewish information and observance accessible on other platforms.
Through the vision and generosity of a group of funders, the Omer counter app joins the "Hayom" app (now available for the Apple Watch), the "Passover Assistant," the "Jewish.tv" video app, the "Shabbat Times" app, a JewishKids.org app for children and others—all designed to help bring Jewish wisdom and tools to the fingertips of users. Additional apps are in the planning and developmental stages by an international Chabad.org team.
The drive, vision for and underwriting of the apps, which are available free of charge, come from the generous partnership of Dovid and Malkie Smetana, Alan and Lori Zekelman, the Meromim Fund, and Moris and Lillian Tabacinic—all dedicated to spreading the wisdom and practice of Judaism worldwide.
Download the "Omer Counter" app for your Apple device here or Android device here.
Read more about the "Omer Counter" app here.
A complete list of Jewish apps from Chabad.org can be found here.